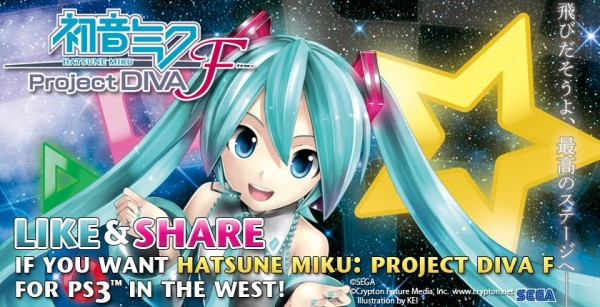 For a long time now, the Hatsune Miku has been extremely popular in Japan and her popularity in the West has been growing at a steady pace, so steady in fact that she's been used in advertisements before and various concerts have been held for her fans.
However, despite her growing popularity in the West, the video games created using her and other Vocaloids have never made it to the West. Now however that all may change, as earlier today Sega posted the above image on their Facebook page saying that "Like and Share if you want Hatsune Miku: Project Diva F for PS3 in the west!"
While this is far from a yes or any specific confirmation, this is a great sign for fans as last year, Sega actually had a playable version of the Vita version of Hatsune Miku: Project Diva f available at E3 and at the time of this writing, Sega's image has been shared over five and a half thousand times and liked over seven thousand times.
Update: For those unaware of what this title may offer in terms of gameplay, I have provided a new trailer containing over twelve minutes of gameplay footage below.