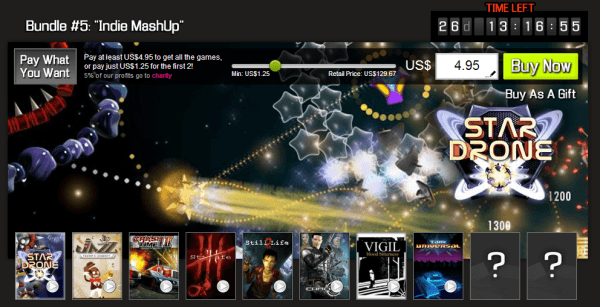 Bundle Stars is back with their fifth bundle of games. Indie MashUp is a mix of true indie games and a few studio developed titles. There will be ten titles in the bundle, with two to be announced at a later date. Eight of the titles are also available as Steam keys. The full bundle costs $4.95 USD, but buyers are encouraged to pay more to support the Special Effect charity. StarDrone and Jazz: Trump's Journey is available for $1.25.
The bundle contains platformer Jazz: Trump's Journey, arcade game StarDrone, retro shooter Tank: Universal, adventure game Vigil: Blood Bitterness, sci fi shooter Chrome, open world car combat Crash Time 2, adventure games Still Life and Still Life 2.
Check out the bundle here.