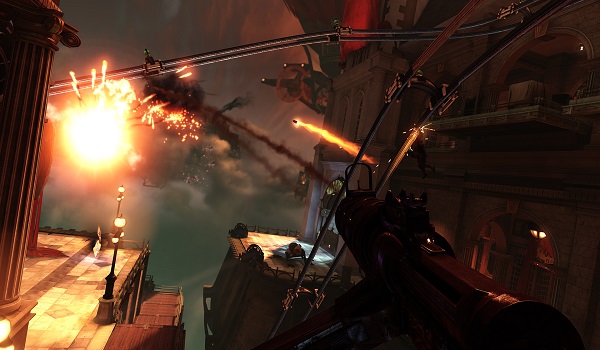 In the latest and greatest trailer from 2K Games, we see culmination of some great gameplay and a compelling storyline, two things any good game needs in equal measures. The trailer itself is fairly spoiler free and is more along the lines of a main character focus rather than a story reveal one. Within, we see Booker DeWitt fighting for not only his own survival in the hectic Columbia, but also fighting for the life and safety of his quarry and soon-to-be partner Elizabeth.
Bioshock Infinite looks set to bring the outstanding play of the previous two games in the series smoothly to an entirely new location, which is great news for fans and newcomers alike. Judging by Irrational's other entries, players can expect truly grey moral areas, a mix of brutal power and gunplay as well as a compelling world and story to pull any gamer through. Bioshock Infinite is arriving to stores worldwide on March 26th, for the Xbox 360, Playstation 3 and PC.
Be sure to watch out for that SongBird and check out the new trailer down below.