After the leak of the first screenshots and full trailer for Battlefield 4 (see here), EA and DICE have just officially released a 17 minute long gameplay reveal video called "Fishing in Baku".
The video, which can be viewed at the bottom of this article, is breath-taking in displaying the game's graphical quality, but also in the set-pieces that are to be experienced by the player as Recker. Those three "Prepare 4 Battle" teasers – Land, Sea and Air – couldn't have foreshadowed the events that take place in Fishing in Baku any better. We get an unedited look at the sequence that involves the Tombstone Actual team driving and fighting on land, trapped in a sinking car in the sea and attempting to get extracted by air when an attack helicopter appears and foils their escape from a collapsing building (yes, in Battlefield 3, you saw one…now, you're in one!).
According to the official press release, the single-player campaign promises huge environments, a playground of destruction, access to an arsenal of vehicles  and weaponry and the ability to direct squad mates (which is showcased in this gameplay video). And now, the solo experience of playing Battlefield has become much more social as players' progress will be tracked, adding an element of persistence and friendly competition to the campaign with friends.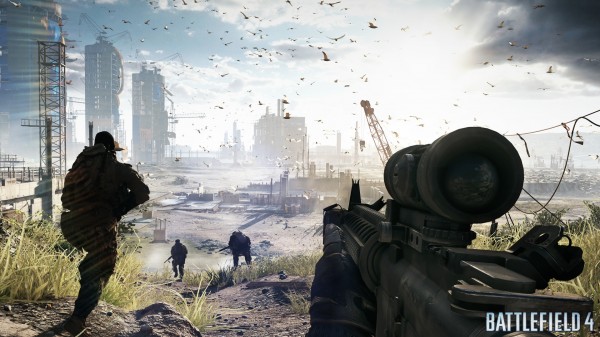 Executive Vice President of the EA Games Label, Patrick Soderlund said;
"We are so humbled and proud to debut Battlefield 4 on a global stage with simultaneous events in San Francisco and Stockholm. To be this early in development, and to already be so polished is a huge achievement for the DICE team and reflection of their passion and commitment to driving the franchise forward. Today's demo was just the beginning — we have so much more in store. It is thrilling to witness peoples' reaction when seeing the game for the first time. It really makes you realize that we are at the beginning of a whole new era for gaming. As artists and craftspeople, we are focused on creating a dynamic, open design that brings people together with amazing, surprising unscripted moments that they'll talk about for days. That's the beauty of Battlefield."
This video deserves to be seen in HD, so please – if you haven't already – watch it below. You can pre-order Battlefield 4 for Xbox 360, PS3 or PC here. By doing so at participating retail outlets, you will receive a Premium expansion pack at no extra cost. DICE also announced today Battlefield 4 Digital Deluxe edition, which is an Origin exclusive that includes bonus in-game digital items. Players that pre-order the Battlefield 4 Digital Deluxe edition will also receive the Premium expansion pack as well as access to the exclusive Battlefield 4 multiplayer beta. For more information on the stunning war-fighter, visit the official Battlefield website.