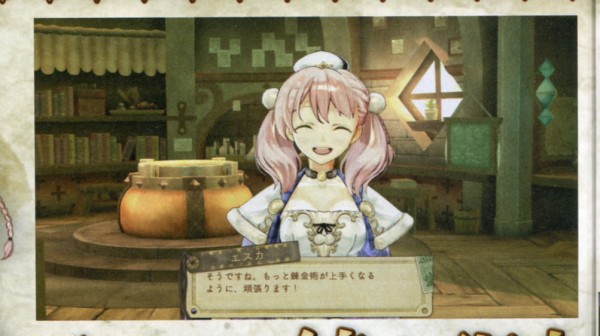 Today details were revealed for Gust's next Atelier game which has previously been called "Project A15." The game will feature two protagonists and will be using the Dynasty Warriors engine according to Dengeki PlayStation and it will be called Atelier Escha & Logy: The Alchemists of the Twilight Sky.
The title is set to be released in Japan on June 27th and the female protagonist shown above and in past promo art is called Escha Malier who is a fifteen year old female protagonist who seems to either be waring or actually has a tail for an unknown reason while the male protagonist is Logix Ficsario who is eighteen years old who wields an alchemical sword.
Besides these two characters the company has said more will be revealed in the future and Atelier Ayesha characters may appear in the game as well. Players will be able to select whether they want to play as Escha or Logix when they start the game and depending on who they select to play as various event scenes and point of views will change.
It is interesting to note that battles will now allow players to use six party members in a battle and they can freely switch between the front and the back rows during battle. It also seems that the game will feature lip synching, which Atelier Ayesha sorely lacked and the alchemy system will return and be similar to the one used in Ayesha.
According to the scans it says that the game will be built upon the themes of trust and friendship and while the main story will be the same for both characters, each one will have exclusive events to give each playthrough a different feel. Anyone who buys a copy of the game when it is first released in Japan will be given a download code for the PS2 Classic Mana Khemia 2. Check out the various scans from Dengeki PlayStation and the looks of the protagonists below.