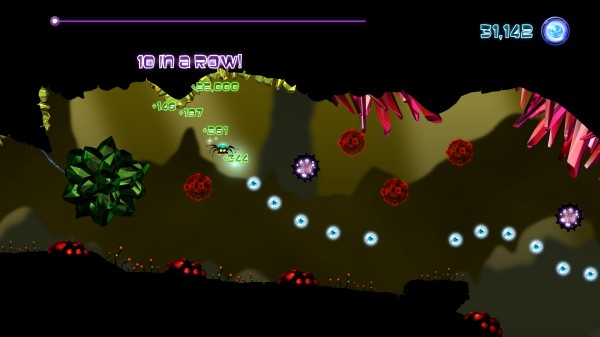 If you like sleek looking platformers and spiders, you will be happy to know that Kalypso are gearing up to combine the two elements into one game. Alien Spidey is set to release on March 20th for the Xbox Live Arcade, PSN, and the Mac for $9.99, and offers a nice, cozy single player experience featuring a spider hopping about, and is booming with color and challenge.
"Alien Spidy is a new take on the classic sider-scroller, but with all sorts of modern twists," said Jonathan Hales, managing director, Kalypso Media. "The game is filled with colorful characters, beautiful animations, and just the right balance of pick-up-and-play accessibility and ramps up the challenge in later levels, making it perfect for all types of gamers."
Yeah, we have seen a lot of platformers that look a bit like Alien Spidy in the past, but this one appears to offer much more – with 69 levels, three settings (Forest, Pond, Caves), and more than 350 collectibles and achievements. Check out the new screenshots and remember that this title will web out in just under two weeks time.