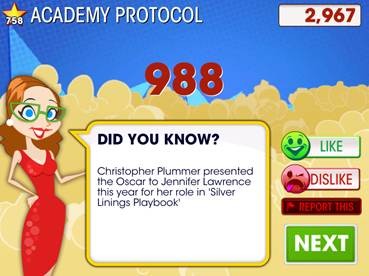 EA's new social trivia game TMI Trivia hosted an online Acadamy Awards Watch Party. Brand new sets of questions has been posted to the game based on the live broadcast of the Oscars, hosted by Seth McFarlane.
"From William Shatner's cameo appearance, to Jennifer Lawrence's stumble on the steps to the point where the First Lady announced the Best Picture winner, TMi Trivia showcased its ability to provide fun, up-to-the-moment questions and answers for fans of the Oscars telecast," said Jon Dean, Vice President and Executive Producer at EA Salt Lake.  "No other trivia game can be this current or relevant for fans, and Oscar Night is just the start for TMi Trivia as we plan on supporting many such pop culture events throughout the year in exactly the same way."
TMI Trivia is free to download on the Canadian App Store here. The game will be rolled out to the rest of the world in the spring.