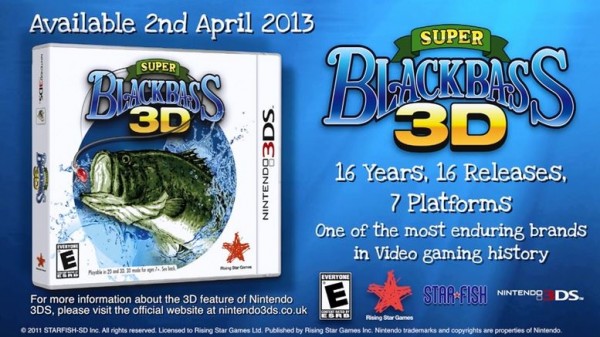 April 2nd, one of the most prolific fishing franchises of all time will make its way to the Nintendo 3DS. Rising Star Games has decided to cast out a new trailer to see if they can chum the waters a bit for the newest Super Black Bass 3D.  The video shows off some some of the fish you can catch, some underwater bass action, realistic climates, equipment upgrading, and more.
Super Black Bass 3D Key Features include:
Catch fish with Super Black Bass 3D's "Real Rod System" featuring realistic movement controls
Multiple Game Modes
Hundreds of fish to catch across various competitive locations
Changing conditions that affect your fishing: changing seasons, weather conditions, and time of day
Upgradeable fishing gear
Domestic / International rankings – Give yourself a Master of SBB alias and challenge fellow anglers from around the world
Closest experience to real fishing on the Nintendo 3DS
Longest running video game fishing franchise
Be sure to check out "The Legend Returns" trailer below, check out their official website here, and look for Super Black Bass 3D to stalk the waters near you on April 2nd.