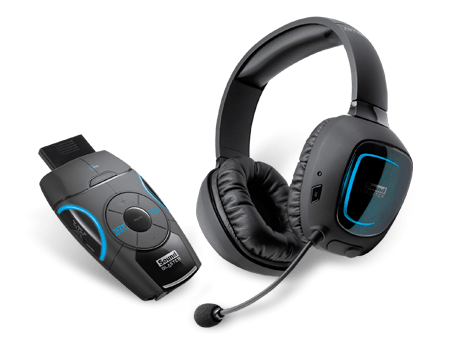 Creative's Sound Blaster brand headphones are being released here in Australia at local retailers JB Hi-Fi and EBGames. The headphones range in price and function, with the most functional costing the most, while the device with the least functions is at the cheaper end of the spectrum.
What's interesting about each pair of headphones is that they are compatible with a range of devices. These include the PC, Xbox 360 and the Playstation 3. However, some devices only support a few of the platformss rather than them all.
Below is a reproduction of the products and their descriptions.
Sound Blaster Recon3D Omega Wireless for PC, PS3 and Xbox 360 $279.95

Powered by the revolutionary Sound Core3D™ quad-core audio processor – The revolutionary Sound Core3D™ Audio and Voice chipset allows for the first time ever the advantages of an internal sound card in an external USB device
Hardware Accelerated THX® TruStudio Pro technologies – THX® TruStudio Pro sound technologies create unprecedented levels of audio realism and includes stunning surround effects that go far beyond standard 5.1 or 7.1 audio, producing hundreds of virtual speakers around, above and below you
Cross Platform Gaming with hardware Dolby Digital decode – Transform any stereo or Dolby Digital 5.1 source into high fidelity THX enhanced surround sound for your Xbox 360, Playstation 3, PC or Mac
Tactic Link™ Wireless Gaming with the headsets – Tactic Link™ uncompressed wireless technology delivers lag and static free gaming audio from your Xbox 360, Playstation 3, PC or Mac

Sound Blaster Tactic3D Omega Wireless for PC, PS3 and Xbox 360 $199.95

Cross Platform Wireless Gaming Headset – uncompressed wireless technology delivers lag and static free gaming audio from your Xbox 360, PlayStation 3, PC or Mac.
50mm Full Spectrum audio drivers – High powered, no holds barred gaming audio. Massive bass and crispy highs, just how the game designers want you to experience the game.
Built like a tank – Built around a steel core, the Tactic3D Omega headset is fabricated to withstand the living room, desktop or backpack. Keep it at home or take it with you without any worries.

Sound Blaster Tactic3D Rage USB for PC $99.95

3D Surround Sound – Unchain yourself from the limits of 7.1 audio. SBX Surround positions audio in a 360 degree true-to-life sound stage
16 Million Colour Illuminated Ear Cups – When 15 million colours just isn't enough, choose from 16 million colours to match your team, rig, or aura.

Creative Draco Headphones for PC $59.95

Finely Tuned 40mm Neodymium drivers by Creative acoustic and gaming designers to deliver the most realistic environmental sounds with explosive bass.
Full sized earcups wrapped in soft leatherette
Detachable mic booms turns the Draco into pair of street styled headphones that delivers exceptional digital music playback on your portable media device.
Sensitive noise cancelling microphone and an east to reach in-line volume control with mute switch

Sound Blaster Tactic360 Ion for Xbox 360 $59.95*

In-Line stereo amplifier with independent audio and chat controls – Powered conveniently via USB port from your Xbox 360, the Sound Blaster Tactic360 In-line stereo amplifiers come with built-in volume controls to adjust both the game audio and incoming chat levels separately allowing you to hear what matters the most
Lightweight frame with 40mm Neodymium magnet drivers and a flexible, noise-cancelling microphone for accurate and clear Xbox LIVE communication

*Only available from JB Hi-Fi
As we can see, there are a wide range of products to choose from. Users should be choosing the best device to suit their needs as well as their wallets. For instance, personally speaking, I would choose the Sound Blaster Tactic3D Rage headphones for their mixture of best price and best quality. Also, I don't like wireless technology all that much.
What are your needs? Which headphones would you prefer to use? Let us know in the comment section below.