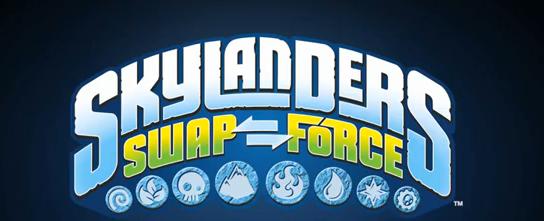 Skylanders has made Activision a ton of money during the past few years, and it looks like that wallet will continue to grow. Today, it was announced that Skylanders: Swap Force will be the newest version of the popular toy-based adventure, which will let players literally swap out parts from their figures to create new abilities that can be used within the game.
Details? Well, here is some information from the big "A" themselves"
SWAP Force builds upon the success of the franchise's signature gameplay with an all-new innovative play pattern — swapability — that gives kids more choice than ever before by letting  them swap the top and bottom halves of the toys to create their own characters.  The game lets Portal Masters reconfigure 16 SWAP Force characters into more than 250 unique combinations.  Kids can mix and match characters' powers and moves, and then bring them to life in the game.   Fans of the franchise also can play Skylanders SWAP Force with their entire collection of characters from both Skylanders Spyro's Adventure and Skylanders Giants, now with the added capability of jumping.

"With Skylanders, we didn't just create a beloved new franchise, we actually created an entirely new category that brings the world of physical toys and video games together like never before. And now with Skylanders SWAP Force, we are pushing the genre we created forward with another big innovation:  customization," said Eric Hirshberg, CEO of Activision Publishing, Inc. "The idea that kids can customize their own characters in the physical world, and have their unique combinations recognized in the virtual world, is an idea as big as the concept of bringing toys to life itself."

In Skylanders SWAP Force, Portal Masters embark on an all-new adventure in the mysterious Cloudbreak Islands, home to a mystical volcano that erupts every hundred years to replenish the magic in Skylands.  During an epic battle, a brave group of Skylanders were caught in the volcano's eruption, which blasted them apart and sent them to earth.  But, the magic of the volcano gave these heroes a remarkable new power — the ability to swap halves – turning them into a special team known as the SWAP Force.  Meanwhile, Kaos is back with a new evil plan.  And now, Portal Masters everywhere must reassemble the SWAP Force — in their original form or in new combinations — and send them back to Cloudbreak to save Skylands!
This is great news for fans of Skylanders, as underneath all of that marketing and toy buying, there is a solid product that shows no signs of age as of yet. You can check out the new trailer down below, and let us know if you plan to cave in and swap out for a new breed of Spyro later this year. Those in New York can check out this new game at Toy Fair 2013, February 10-13 at the Javits Center in New York City.