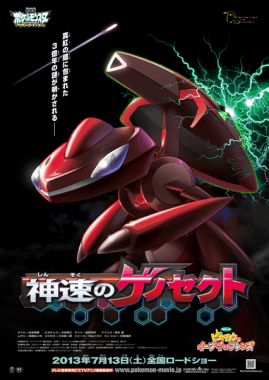 A new trailer has been released for the upcoming 16th Pokemon film, Pokemon Movie 16: Extreme Speed Genesect and Mewtwo's Awakening. The trailer focuses primarily on the Genesect portion of the film.
Billing itself as 'top secret' footage from the Team Plasma vaults, the trailer shows off Genesect in action as he transforms, flies around and looks like CGI. You can check out the Pokemon Movie 16 trailer below in all its poke-glory.
What do you think of this cool Pokemon Movie 16 trailer? Are you excited to see Genesect face off with Mewtwo in all out war? Let us know in the comments section below.