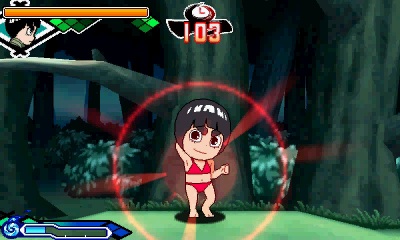 Namco Bandai Games have released a brand new set of screenshots along with an exciting trailer for the upcoming Naruto Powerful Shippuden for the Nintendo 3DS.
Based upon the popular anime series Naruto Spin-Off: Rock Lee and His Ninja Pals, Naruto Powerful Shippuden brings all the hilarious ninja action of the series to the 3DS for some thrilling side-scrolling mayhem.
The new screenshots can be seen below in all the strange glory as Lee's world is rocked by the realization that he may just like dressing like a woman?! You can view them all below.
Not only have Namco released some new screenshots they have also release a brand-spanking new trailer that shows off the game's wild action which you can also check out below.
Don't forget to let us know what you think of this wild 3DS title in the comments section.