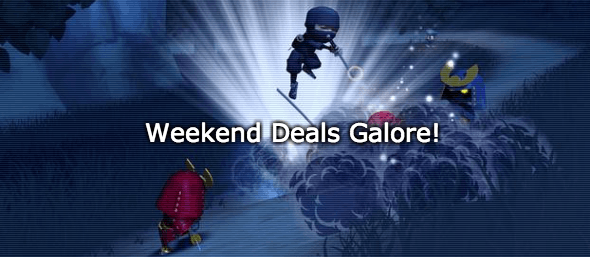 February, the month of Chinese New Years and everyone's favourite/most hated holiday of Valentine's Day. Lets kick off the month on a good note with some great deals shall we?
Steam is running two weekend deals this week. Indie dungeon crawler Legend of Grimrock is 66% off. The game is a modern 3d twist on the classical old school dungeon crawler and worth a purchase for RPG fans. The price isn't the best as it has shown up at 75% off during the last Steam Winter Sale. I highly recommend waiting until it shows up at 75% off before purchasing the game. Painkiller Hell & Damnation is also on sale for a hellish 66% off. Additionally, a free to play weekend for the multiplayer portions of the game is running until Sunday at 1pm PST. The game is a throwback to the old Quake style first person shooter. The sale prices will last until Monday at 10am PST as usual.
Greenman Gaming is flexing their muscles throwing a large sale this weekend. The sale will last until 4:00 pm GMT February 4th. Those looking to pre-order Dragonborn, the latest DLC for Skyrim can get it at 20% off. This is the lowest price I have seen so far for this particular DLC, so if you're looking to play on day 1, this is your best bet. Strike Suit Zero and the Collector's Edition is on sale for 20% off too. This classy space dog fighter meets mecha game ran a successful Kickstarter and features ship designs by Junji Okubo, the designer behind Appleseed: Ex Machina and Steel Battalion. Check out our review of Strike Suit Zero here. Sleeping Dogs and its two content DLCs 75% off. In addition, purchasing the base game will give you either $1.00 instant cashback or $2.00 store credit for a future purchase. This takes the crown as the best deal for Sleeping Dogs since the pricing error on Steam during the Winter Sale. Check out our review of Sleeping Dogs here. There are a whack load more weekend deals at Greenman Gaming including 25% off preorders for major games, check them all out here.
GOG.com is running a 20 game sale, knocking prices down by 60%. I recommend checking out Jagged Alliance, Port Royale 2, Combat Chess, and Sacred Gold in particular. All these games come in DRM free downloads. Check out the full sale here.
Get Games has the Total War Collections on sale for up to 75% off. The Total War series is a strategy fan favourite. If you have yet to play the series, I highly recommend trying the series out. Each collection features all the games, expansions, and DLCs in one package. Additionally, the Total War Grand Master Collection contains almost all the Total War games along with most of the DLCs for those games. Check out our review of the standalone expansion Total War: Shogun 2 – Fall of the Samurai here.
THQ games are still heavily discounted after the fall of the publisher. Darksiders II is on sale at Gametap for 80% off. Short of buying Darksiders II in a bundle, this has been the cheapest its been so far. Just a warning, it is not the best PC port. Sleeping Dogs was released at the same time and made the PC port of Darksiders II look slightly cheap. None the less, Darksiders II is a fantastic follow up to Darksiders. I recommend purchasing it if you don't yet own the game. Check out our review of Darksiders II here.