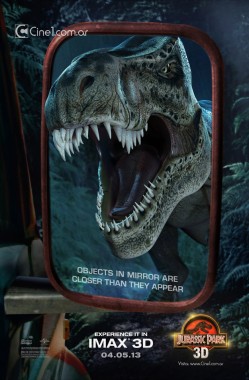 This T-Rex is getting a little too close for comfort!
Steven Spielberg's Jurassic Park 3D now has a new poster online, thanks to Cine1. Fully remastered, the classic blockbuster returns to cinemas on April 5, this time in glorious 3D. The poster is very reminiscent of the classic T-Rex chase scene, but if you look closely you may notice the dinosaur's mouth is popping out of the screen a little….just like it will in cinemas!
If that isn't enough dinosaur fun for you, keep in mind Jurassic Park 4 will also hit cinemas on June 14, 2014. Until then look forward for Jurassic Park 3D to hit cinemas on April 5!