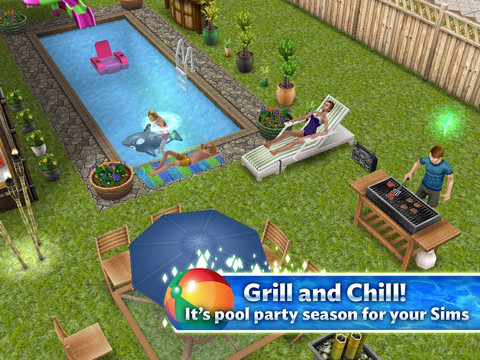 Sims FreePlay has received a content update this week. The theme is pool parties as the update brings brand new outdoor accessories for your garden, swimwear, the Swimming Center building, and the new diving hobby. The free update is available on iTunes here, Google Play here, and the Amazon App Store here.
FIFA 13 has a new trailer featuring Real Madrid and French International striker Karim Benzema playing as himself on the iPad version of FIFA 13. FIFA 13 has become EA Mobile's biggest launch day success story, shattering internal records for launch day sales. Additionally, EA has stated that the game is selling at +35% year-over-year, a new record downloadable titles. Check out FIFA 13 for iOS here.
The free version of Scrabble received a major title update that includes iPhone 5 and iOS 6 optimizations, in game chat, the ability to quickly swipe between matches, the ability to put tiles down on the board on other player's turn to preview your next move, and load time improvements. Check out Scrabble here.
Blackberry, formerly known as RIM, announced the release of their new BB10 devices. EA Mobile announced their line up of games that will be available at launch on the BlackBerry World store. Titles will include The Sims FreePlay, Tetris, World Series of Poker, Monopoly Millionaire, Mass Effect Infiltrator, Dead Space, Plants vs. Zombies, and Bejeweled 2.