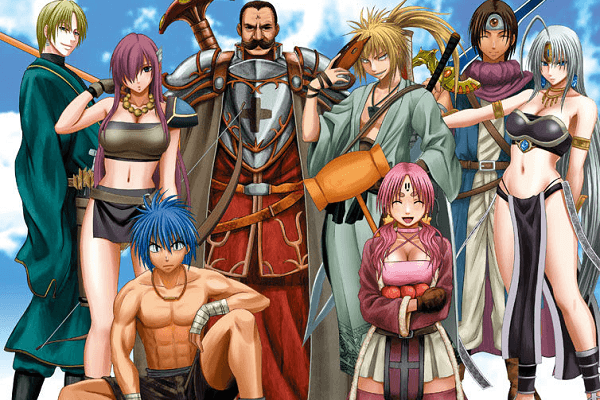 There have been a lot of wars in the history of man but what about wars where battles aren't fought between men but fought between products? Well the video game war has been raging ever since the first few companies started to compete with one another decades ago. We've seen Hyperdimension Neptunia parody the industry and create a three-game running RPG series but what about anime and manga?
Well if you've been paying attention to the anime industry as of late, you may have noticed that Crunchyroll features a few episodes of the Aoi Sekai no Chūshin de OVA. What is this series? Well the story revolves around a real-life console war set in a fantasy land. The Segua Kingdom is battling against the Ninterudo Empire for control of the land of Consume and now that Segua is about to lose the war, a boy named Gear with super speed is bringing the Segua forces back into battle.
Now it has been revealed by ANN that the manga of this anime will be heading overseas as well, but this time in full English and it will be coming to store shelves near you in July. Seven Seas Entertainment has revealed that they will be bringing the series over as World War Blue and the first volume of the nine volume series will be available in July with subsequent volumes coming at a later date.
Update: Today Seven Seas provided an official press release including new information regarding the release schedule for World War Blue. The first volume is still scheduled to be released in July while Volume 2 will be released sometime in August and the third volume coming a couple months later in November.
Jason DeAgenlis, a publisher of Seven Seas Entertainment has compared the series to Hetalia, stating the following: "World War Blue is like Hetalia for gamers. Each character is a satiric embodiment of a popular video game character, locked in a desperate battle that represents an important era in video game history."
The company also provided their own synopsis of the series which you can read below:
In the continent of Consume, an endless war rages between bitter rivals: the Segua Kingdom vs. the Ninteldo Empire. Upon his dinosaur steed, the stern Emperor Marcus has led the Ninteldo Empire to near-victory. Now, with the majority of Consume under its control, Ninteldo has Segua up against the ropes.

Enter a fleet-footed lad named Gear, who seeks vengeance against Ninteldo for his brother's death. After joining Segua's Army, Gear is enlisted in the Special Forces, due to his amazing speed. Yet the inexperienced, hasty youth may not be ready for the realities of war—or he may just become the Segua Empire's last and greatest hope