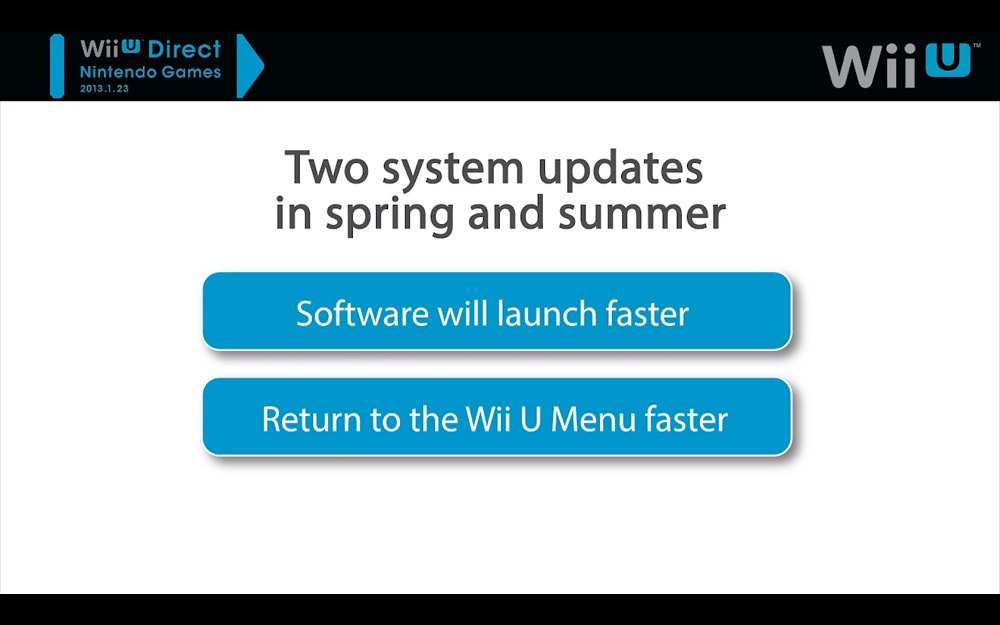 Nintendo President Satoru Iwata has just announced via the Wii U Nintendo Direct presentation that the Wii U will be receiving two system updates; one coming in Spring, and one coming in Summer.
The updates will do wonders in improving load times, cutting the time it takes to return to the Wii U main menu and helping software to launch much quicker. What's more exciting is the news that the Virtual Console service will be coming alongside, or possibly shortly after, the Spring update as it will be adding the appropriate software to the Wii U Nintendo eShop.
As was the case with the Wii, NES games will be priced at $4.99-$5.99 and SNES games will range from $7.99-$8.99. Now, you will have to pay an extra $1 and $1.50, respectively, to purchase the Wii U version of any NES or SNES titles you already own on the Wii. Before you start audibly shouting "Why?!", know that this is because there are extra features such as 3DS-like save states, the option to play entirely on the GamePad and ability to post to Miiverse added.
To celebrate its launch and the 30th anniversary of the NES since it's initial Launch in Japan, Nintendo are also running a Wii U Virtual Console Trial Campaign, the details of which can be found here.