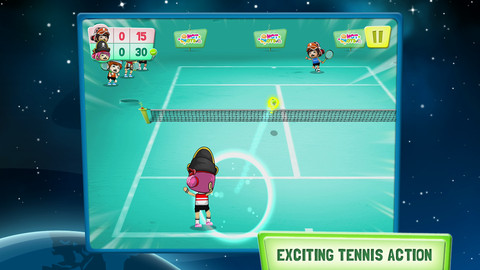 This is the busiest time of the year for the sport of Tennis in Australia. We've just had the Hyundai Hopman Cup in Perth and the Australian Open is starting in Melbourne next week. The tennis craze doesn't stop there however, as Tennis Australia and award-winning Milipede Creative Development have released Tennis Hot Shots Galaxy, for FREE, for the iOS.
Tennis Hot Shots Galaxy is an action-sports game targeted at kids and was designed to help make them aware of Tennis Australia's MLC Hot Shots program, of which Australian tennis superstar Alicia Molik is the official ambassador. The program encourages youth to pick up a racquet and play tennis with their friends at their local tennis/sports club. The Tennis Hot Shots Galaxy app has a built-in pedometer feature to help promote this initiative for a healthy, active childhood.
The game itself is available for the iPhone, iPad and iPod Touch, and features three fantasy tournaments based on Jurassic, Spooky and Galactic themes. The game is stylised and colourful, and allows players to pull off devastating power moves whilst avoiding random environmental hazards and challenging their friends to beat their score. Download Tennis Hot Shots Galaxy from the app store here, and for more information on Tennis Australia's MLC Hot Shots program, visit the official website.