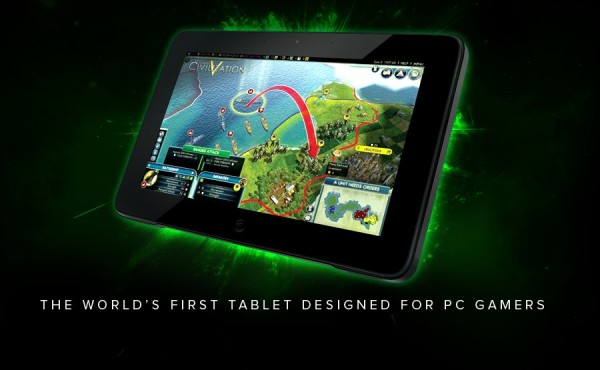 Announced back in January of last year at CES under the name Project Fiona, Razer's new gaming tablet that works as a full PC will be finally be releasing Q1 this year.  Now called The Razer Edge, it was aided in design by PC gamers to ensure that it would be able to meet all of the necessary requirements from size, components, and cost.  With all of these things in mind The Razer Edge will be coming in two different types, from the standard with Intel Core i5 processor, NVIDIA GT640M LE GPU, 4 GB of DDR3 RAM, and a 64 GB SSD or The Razer Edge Pro with Intel Core i7 processor, NVIDIA GT640M LE GPU, 8 GB DDR3 RAM, and 128 GB SSD.
Starting at $999, The Razer Edge can work in 4 different configurations utilizing additional components, from Tablet mode, to Keyboard Dock mode, to Gamepad Controller mode, to Docking Station mode.  While the Keyboard Dock has a ways before its release in Quarter 3, the Gamepad Controller can come bundled with The Razer Edge or alone at $249, while the Docking Station can turn the tablet into a full desktop device with 3 USB 2.0 ports and HDMI 1.4 port for an additional $99.
Players wanting a better look at the full PC tablet can check out the gallery below and/or the trailer embedded below that.  Those interested in The Razer Edge Standard can head to the website HERE, while those interested in The Razer Edge Pro can find that HERE.