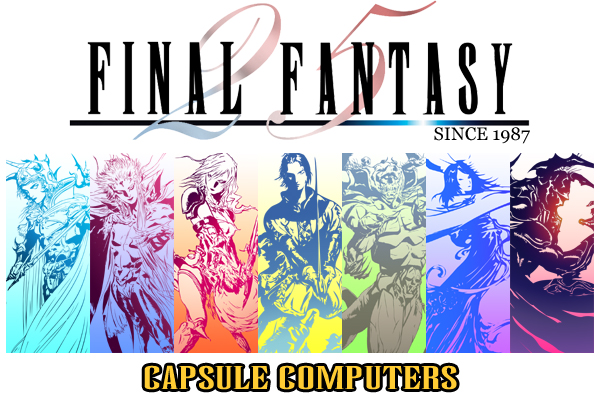 It all began as a last ditch effort to create a game that would sell reasonably well in 1987, but 25 years later it stands as one of the most iconic and successful video game franchises of all time, I am of course talking about Final Fantasy.
Ever since its debut on the Nintendo Entertainment System, the series has only risen in commercial success and popularity. It was however the highly acclaimed and revolutionary Final Fantasy VII on the original PlayStation that really gave the franchise a dominating presence all over the world, and it continues to ride that momentum till this very day. The staying power of Final Fantasy really shouldn't surprise anyone, and what's really impressive is how Final Fantasy has consistently been an integral of part of the gaming scene in just about every console generation since its inception, and continues to do so. The series now celebrates its 25th anniversary, and there are certainly no signs of it slowing down.
To celebrate this historic milestone the Capsule Computers crew got together to talk about all things Final Fantasy. In this special feature article, and accompanying podcast, we discuss our Final Fantasy memories, the highs and lows of the series, our thoughts on the current direction and future of the franchise, and more. Read on to find out what Final Fantasy means to each of us, and be sure to listen to the podcast.
Here's to another 25 years!
Click on the pages below:
Page 2: Jahanzeb Khan, Michael Marr, Benjamin Webb, Luke Halliday, and Joshua Moris
Page 3: Joe Morgan, Travis Bruno, Dustin Spencer, and Mari Shishido 
Page 4: Capsule Computers Podcast – Celebrating 25 Years of Final Fantasy