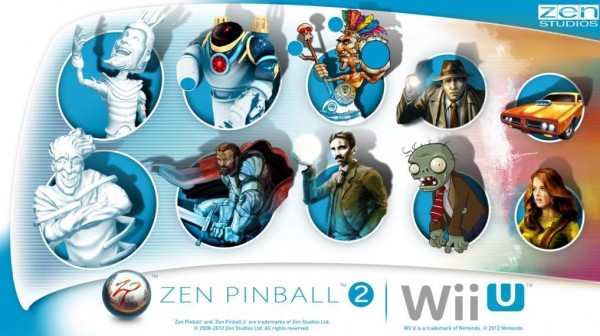 Normally when I hear the news of another Wii U port, I am a bit resistant to jump for joy as the platform seems ready for more exciting and original projects. With this port news however, I am quite giddy as Zen Studios have announced that Zen Pinball 2 will be released on the eShop this month. Sure, we all know and love Zen Pinball and it's many tables, but the Wii U version has a few extra features up it's sleeve, as well as all of the gameplay fans are familiar with.
Features include:
Unprecedented table visuals and the most advanced ball physics on Wii U
Trial version for all tables, try them out before you buy!
Local Hotseat multiplayer, and fast paced Split-screen multiplayer game modes
Action cameras to guide and emphasize spectacular moments
Ranking support for all tables, National Ranking, and Worldwide tournaments
Continue playing on the Wii U GamePad if the TV is occupied!
Robust social features with Challenges, Pro Score, and Team Score. It's up to you to become the Pinball Champion!
Awards for each table
Regular table releases through the Nintendo eShop
Zen Pinball 2 is a free download for any user on the Nintendo eShop on Wii U, featuring demos of each table.
Zen Pinball 2 on Wii U will release with a huge content library available, including three Marvel Pinball packs, a collection of Zen Studios' original designs, and several individual tables:
Zen Classic Pack featuring Tesla, El Dorado, V12, Shaman
Marvel Pinball featuring Spider-Man, Wolverine, Blade and Iron Man
Marvel Pinball: Avengers Chronicles featuring Marvel's The Avengers, Infinity Gauntlet, World War Hulk, Fear Itself
Marvel Pinball: Vengeance and Virtue featuring X-Men, Thor, Ghost Rider, Moon Knight
Individual DLC Tables: Plants vs. Zombies, Excalibur, Earth Defense, Sorcerer's Lair, Paranormal, Mars, Epic Quest, Captain America, Fantastic Four
Pretty awesome, right? The Wii U's Gamepad and Zen Pinball are a match made in heaven, and this will be yet another version of the award winning title that all must snag up when it releases sometime this month. Stay tuned, as when Zen Studios come forward with a more official date, we will be sure to bring you an update. Watch the new trailer down below to hold you over until then.