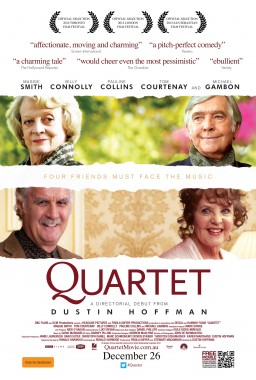 Dustin Hoffman's new film Quartet, starring Maggie Smith, Billy Connolly, Michael Gambon, Tom Courtenay, and Pauline Collins, is coming to theaters in Australia on Boxing Day (December 26th, 2012 for those outside of the Commonwealth). Two clips of the movie have been released on YouTube called "Steady Reg" and "Please Call Me Wilf." These two clips join "Jean's Arrival" on YouTube. Check out the two new clips below.
Quartet is about an old age home for retired musicians to live out the last of their days. Three musicians who spent a career performing together soon discover that the new arrival to their home is their former partner that ditched them for a solo career. Does time heal all wounds? Or does it simply cause them to fester. Find out on Boxing Day in theaters!
Learn more about Quartet at its webpage here.