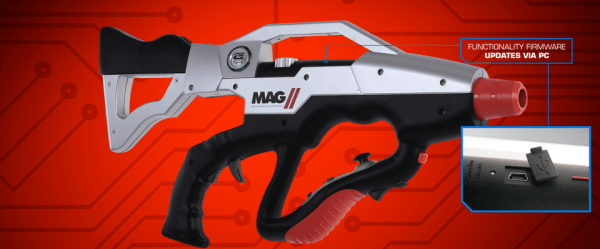 All Interactive Entertainment have released their light gun peripheral for the Playstation 3 and PC, MAG II, in Australia recently. Designed with a more realistic way of playing FPS titles, the peripheral is compatible with all current FPS titles on the market.
The device is being advertised as being not a light gun, but rather a precision FPS controller. The gun mimics movement using gyroscope and motion technology to assist the controller in bringing a realistic way of playing.
I wonder how well I can strafe-jump with it? Be sure to check out the official website for more info.
Price and Features –
The MAG II is in store now for SRP AUD$149.95 and in New Zealand for SRP NZD$189.95.

Further Features of the MAG II Gun Controller:

– Compatible with ALL First-Person-Shooter games

– Full Functionality of Official Controllers

– Real Time, in Game, "On the Fly Calibration"

– High Precision Motion Tracking Gyroscope, eliminating the need for a Sensor Bar.

– Wireless Connection & Built in Vibration

– Updateable System Firmware & Mods

– Works with ALL TVs, Projectors & Monitors