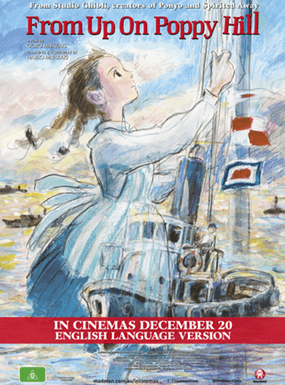 Here's some interesting news from Madman, it seems that they are releasing the English dub from the reasonably good From Up On Poppy Hill in a limited run in cinemas this December. The Cinemas that the film will be screening at are as follows: Cinema Nova (VIC), Dendy Newtown (NSW), Dendy Canberra (ACT) and Luna Leederville (WA).
The film follows the tale of a small group of characters that are working towards the goal of keeping their club-house alive. However, on the side of that is a love story shared between the two main leads that has a high potential of drama.
We've previously reviewed the Japanese Subtitled version of this film, which you should check out here. Hint, it's a good movie worth watching. Be sure to check out From Up On Poppy Hill in the previously mentioned cinemas come December 20 this year.