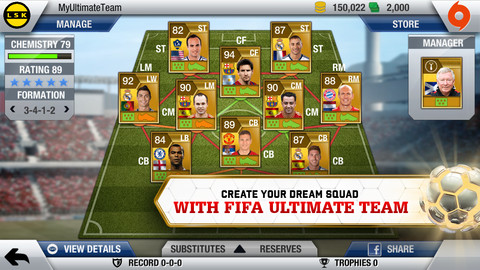 FIFA Ultimate Team is one of the most popular modes on FIFA Soccer 13 that has been missing on the iPhone, iPad, and iPod Touch versions of the game. iOS gamers are now able to get in on the action with EA Mobile's latest update. FIFA Ultimate Team is a free expansion that can be downloaded now by owners.
Players can now build a dream team of soccer players using by earning, bidding, buying, and trading for soccer stars on the open market with other gamers around the world. The soccer player's kit, formation, and play style can be customized and fans will be able to build their team roster to create the perfect player chemistry. Weekly single player tournaments and Team of the Week challenges will be made available for players to see how their dream team stacks up against other players around the world.
FIFA Soccer 13 is available for iPhone, iPad, and iPod Touch here.