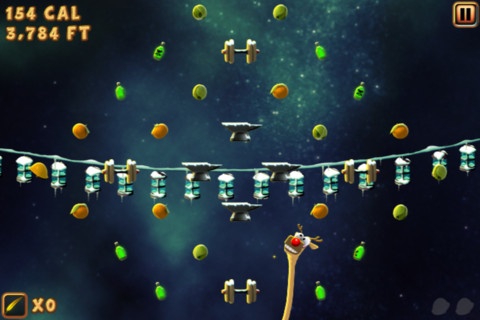 The first major update for the iPhone version of Hungry Giraffe has just been released. The festive season is well under way and with only 11 days til Christmas, Laughing Jackal has treated players to a Christmas themed update! With Version 1.2, players will definitely feel the holiday season with features such as a Christmas icon, Christmas lights, festive food, Santa hats and a Christmassy Reindeer skin for the hungry giraffe!
Hungry Giraffe was originally released as a PlayStation mini. It was downloaded more than 100,000 times worldwide and received positive reviews. PlayStation Official Magazine UK gave it a rating of 10/10 saying, "Hungry Giraffe is so addictive that it's likely to make you miss your stop on the bus and not really care. " In the game, you navigate the giraffe through the sky, which is littered with food for it to eat, but also taking extra care due to hazards floating about. The giraffe is very hungry so make sure you feed it well!
Hungry Giraffe is available on the App Store for free.