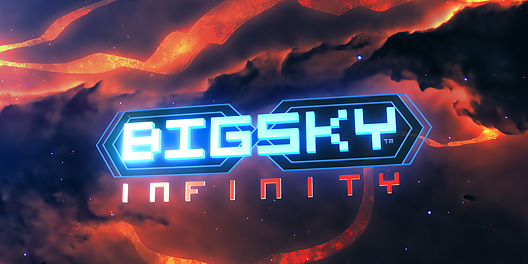 Big Sky Infinity, the newest release from indie developers Boss Baddie and VooFoo has launched today on the PlayStation Network for both PlayStation 3 and PlayStation Vita. Big Sky Infinity, the follow-up to Really Big Sky, is one of the first games to utilize the cross buy initiative, allowing players to have the game on both the PlayStation Vita and PlayStation 3 for a single purchase price.
The game touts Cloud synchronization, 4 player local  play on the PlayStation 3, asynchronous multiplayer on the Vita, and adaptive, randomized gameplay to ensure you never play the same game twice. The game will be available for £7.99 in the UK, €9.99 in the EU and $9.99 in the US, with European PlayStation Plus members having free access to the game for a limited time starting December 12th 2012. (click here)
Check out the launch video below to be hypnotized by the colors and lured into grabbing this beautiful, fast-paced game.