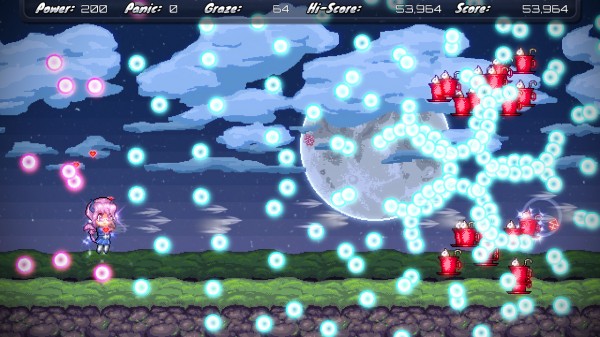 Wasted Brilliance has now released their debut title, Aeternum, on Xbox Live Indie Games. A side-scrolling bullet hell shooter, the game has already garnered quite a fair amount of praise. As the culmination of nearly two years of work, Aeternum was almost entirely created by one man: Brooks Bishop, with the soundtrack crafted by Jesse Bishop and story/dialogue handled by Nate Graves. At only a dollar (80 MSP), it's cheaper than any coin-op machine ever would have been.
Currently, the PC version is in the works, and is tentatively scheduled for early 2013. The release will include additional dialogue, a new playable character and an EX stage/boss (which will also be patched into the XBLIG version).
Wasted Brilliance is also running a contest to find the first person to best their game. Simply record a full playthrough of Aeternum on Demonic without using any continues, post it to Youtube, and let them know! At least the first person to do this will receive a prize pack shipped to them by Jesse Bishop himself. They've even promised to sweeten the pot if the player can beat the game on the higher "Lunatic" difficulty instead. Be warned, apparently not even the creator of the game himself is able to complete it on Lunatic!
Further details on the contest can be found here. Aeternum is available on Xbox Live Indie Games for 80 MSP.