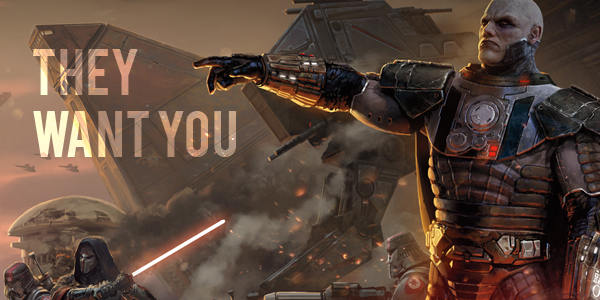 Today, Bioware and LucasArts have launched the free-to-play option for their MMORPG, Star Wars: The Old Republic.
The previously subscription-based only game will now allow players the chance to experience the full storyline arcs of each of the eight available classes, up to a level cap of 50. This is a great incentive for those who were/are put off by the subscription-based model (as common as it is in MMOs). However, you must be made aware that there are some restrictions on your gameplay experience in F2P. To be fair to those who have been paying a subscription, F2P has limited game options and access to certain game content. These limitations (listed here) should not deter potential adopters. As Matthew Bromberg, General Manager of BioWare Austin states: "There has never been a better time to start playing with us."
In other SWTOR news, Game Update 1.5: HK-51 Activated has been released today as well. The update adds new areas, a new companion and much more. Here is the official breakdown of new content made available with the update:
Get ready for an action-packed adventure to earn control of one of the galaxy's most deadly Assassins, HK-51. Submerged beneath the icy surface of Belsavis lies a derelict ship and if you are brave enough to venture through the wreckage, you will embark on a mission that ultimately rewards you with a powerful new, yet familiar, ally the ruthless Assassin Droid, HK-51.
Explore Section X, a previously untouched area of the prison world of Belsavis. The Dread Masters' servants are searching for a powerful and ancient weapon. Fly to Section X and secure the target of their search to be richly rewarded.
Travel to Denova to take on Operation: Explosive Conflict – now with a Nightmare Mode! Teams who complete in this new mode can earn the final pieces of the Dread Guard gear set and a brand new mount that will be sure to cause tank envy!
For further information, and to get started on your F2P account, head over to the official Star Wars: The Old Republic website.