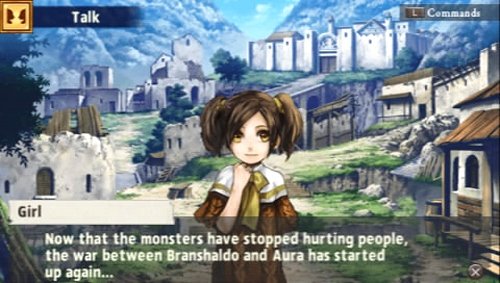 PSP owners who want something new to play are in luck this week, as an absolute treat has been delivered. Aksys Games new strategy RPG Ragnarok Tactics has hit shelves today, delivering an epic story with five different endings, as well as that familiar Ragnarok universe that fans know and love.
Here is some more details for those of you just learning of this game:
Long ago, a ferocious war, which came to be known as the Holy War, was waged. It was during this bloody conflict that humanity erected a magical barrier to keep both gods and demons from overrunning their world. Once the war was over, it was believed that peace would return. However, humanity soon began to turn on itself, and war began anew.
Many centuries after the Holy War, the Branshaldo Empire and the Aura Republic engaged in an extended war for control of the Grantria Peninsula. The conflict eventually ground to a halt and an uneasy truce was reached, as neither nation had the resources to continue fighting. Even so, the animosity between the two parties never faded, but smoldered beneath the surface, always threatening to explode into flames. In the resulting tenuous peace, the people of the peninsula began to resume their normal lives, always aware that the war could resume at any time.
It was against this backdrop that the protagonist begins their fight against rival factions, hordes of ravening monsters controlled by enigmatic puppet masters, and even their own dark impulses…
·         Immersive Story –With multiple factions to support and a plethora of different endings to pursue, Ragnarok Tactics has a vast wealth of original story content for players to enjoy.
 ·         Engaging Strategic Battles – Go beyond standard strategy RPG combat with a variety of unique tactical mechanics, such as the Overdrive, Burst Strike, or even resting mid-battle!
 ·         Interact with Friends – Using the Playstation®Portable's adhoc capabilities, you can exchange weapons and unlock extra features with your friends.
·         Customizable Characters – True to the spirit of former Ragnarok games, Ragnarok Tactics features customizable characters complete with modifiable skills, stats, and job classes.
You can pick up Ragnarok Tactics as of today in either PSP UMD format, or digitally for your Vita or PSP via the PSN.