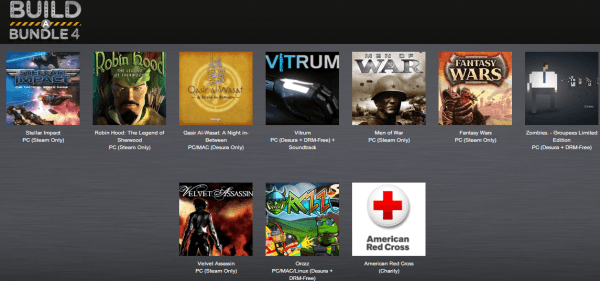 Groupees is back with their latest customized game bundle. Build a Bundle 4 allows players to assemble a bundle of games to get exactly what they want. The bundle starts at a minimum donatio of $1.50 USD for two games and $5.74 for all nine games in the bundle. Of course, gamers are encouraged to donate more for their bundle as 20% of the donations will go to the American Red Cross who is currently participating in Hurricane Sandy Relief.
The games available include Stellar Impact for Steam, Robin Hood: The Legend of Sherwood for Steam, Qasir Al-Wasat: A Night in-Between on Desura, Virtrum for Desura and DRM free download, Men  of War for Steam, Zombies – Groupees Limited Edition for Desura and DRM free download, Velvet Assassin for Steam, and Orczz for Desura. All Desura titles are currently in the Steam Greenlight program. If they are successfully Greenlit, all buyers will receive a Steam key.
Build your bundle here.