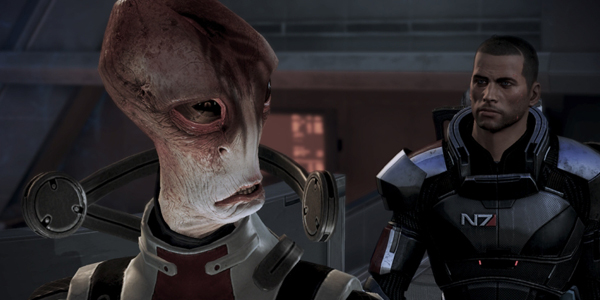 "Wait a minute Mordin, you're just hoping for another appearance in a Mass Effect game!" "Shocking suggestion!"
As was previously ascertained via an official blog post (which we covered here), Mass Effect 4 is moving into the earliest stages of pre-production as we speak. So early, in fact, that Bioware are asking us for suggestions on the direction of the game.
Executive Producer of the Mass Effect series, Casey Hudson, has taken to his Twitter account to ask fans when they would prefer the next entry in the franchise to be set. He wrote, "Parsing through your thoughts on the next #ME game. Would you be more interested in a game that takes place before the trilogy, or after?" Many have responded, and Hudson has already given "Thanks for your feedback on what you want from the next #MassEffect game. Great texture and thought in your comments, which help us focus."
No doubt they will constantly be listening to the fans via social media throughout these most important beginning stages of the game's development, and we know our readers have some strong (constructive!) opinions on the matter, so feel free to express them to @CaseyDHudson and in our comments section below. Have your voices heard.