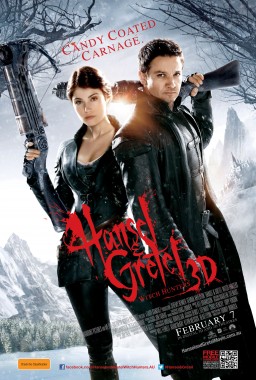 These days we seem to be getting a bevy of 'reimaginings' of old fairy tales. They try to be darker than the originals (though if you've ever read the actual Grimm stories you know that this is pretty hard to manage. The latest of these reimaginings is Hansel and Gretel, which starts off pretty dark to begin with (two children are lured into the woods to die by parents who can't feed them, witch finds them and fattens them up to eat, and then they burn her in the oven, yeah you can't sugar coat that).
Hansel & Gretel: Witch Hunters starts the same way, but continues the story under the idea that Hansel and Gretel then developed a taste for hunting witches and are now badass adults doing it. It's got a bit of a Van Helsing feel, with the old school weapons that are also quite modern looking, but it does generally look like it will actually kick ass.
With Jeremey Renner, Gemma Arterton, Famke Janssen and Peter Stormare, Hansel & Gretel: Witch Hunters will be at least a fun romp with some kickass action scenes and special effects.
Check out the trailer below and let us know what you think! For more movie news and reviews make sure to check out our movie section HERE!
Hansel & Gretel: Witch Hunters starring Jeremy Renner and Gemma Arterton is set for a release date of February 7 2013.
Hansel & Gretel: Witch Hunters – Official Australian Trailer

Hansel & Gretel: Witch Hunters – Official Red Band Trailer