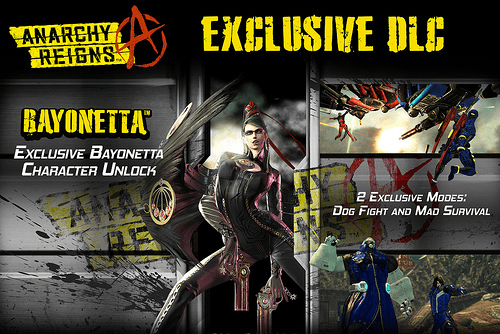 It looks like Sega themselves have finally decided on releasing a little bit of news concerning Anarchy Reigns, a finished game delayed over six months with no explanation given. Today it was revealed that European gamers will be able to pick up a special "Day One" edition of Anarchy Reigns when it is released on January 8th.
Anyone who pre-orders the game will receive an instant upgrade to the Day One edition which will include two extra gameplay modes in the form of Dog Fight and Mad Survival, with the former being an aerial battle mode and the latter being a horde mode. Also included in this version of the game is a code that will allow players to access Bayonetta as a playable character.
Currently it is unknown how the North American version of the game will be released, as Sega made sure to say this version of the game was for Europe only. However with the US version also set for release on January 8th, we should expect some sort of news concerning Bayonetta and these two stages soon.