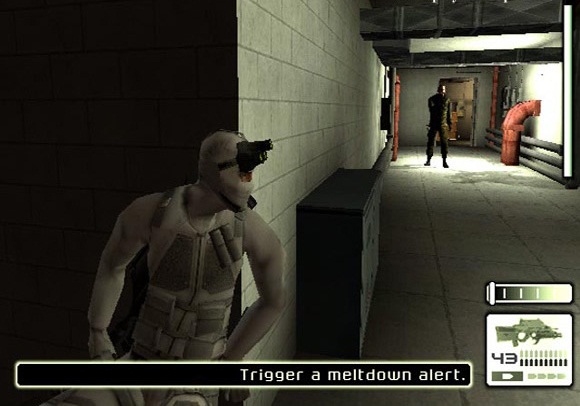 Included in a press release about the upcoming Splinter Cell comic book, Ubisofts have given us a Question and Answer style interview with the comic-books artists and writers. We also have another interview with the director of the games from Ubisoft Toronto.
These interviews have been reproduced below.
Tom Clancy's®  Splinter Cell®  Echoes Graphic Novel Q&A with
Nathan Edmondson and Marc Laming
1.      What comic books have you worked on previously?
Nathan Edmondson:  I've created and written OLYMPUS, THE LIGHT, WHO IS JAKE ELLIS?, THE ACTIVITY, WHERE IS JAKE ELLIS? for Image Comics and I wrote GRIFTER for DC Comics and ULTIMATE IRON MAN for Marvel Comics.
Marc Laming: I've worked on American Century (DC/Vertigo), The Dreaming (DC/Vertigo), The Rinse (Boom! Studios), Exile On The Planet Of The Apes (Boom! Studios), THE ACTIVITY (Image Comics), Shepperton's Waltz (Oort Cloud Comics), and Revolver Romance Special (Fleetway)
2.      Are you a fan of video games?
NE: I am a gamer, but not a huge one.  In fact we go on XBOX Live to play the readers of THE ACTIVITY on Wednesday nights.  My wife and I have enjoyed the Kinect a good deal, too–a game like Just Dance is something we can do together or with friends.  I was into the Splinter Cell franchise well before Ubisoft approached me about working on the series. Splinter Cell is particularly up my alley because of my interest in the black ops world; it resonates a great deal with my research on THE ACTIVITY and for my spy-fi works like DANCER and WHO IS JAKE ELLIS?
ML: I was a fan before I started working full time as an illustrator. Deadlines and video games don't mix.  I loved the Final Fantasy series and Lucasarts' SCUMM-based games from the late 90s.
3.      Have you played any of the Splinter Cell games before working on the comic book?
NE: Yes.
4.      What challenges do you face when working with such a well-known, iconic character such as Sam Fisher?
NE: Making the story fresh, exciting and accessible to both the avid videogame players and comic readers new to the Sam Fisher universe.
ML: The main challenge an artist has is maintaining the series' look and feel while making it dynamic as a comic.
5.      How difficult is it to create compelling static artwork based on a video game universe that is in movement?
ML: It's no more difficult a challenge than any other comic job.  It's still translating a writer's script to the art board and making sure that the pictorial storytelling is a strong and readable as possible.
6.      How challenging is it to adapt a 3D modeled character to a comic book style, and your style?
ML: It can be challenging but I have great references to work from.
7.      How did you manage to create an original story while remaining consistent with Sam Fisher's background and in-game story?
NE: Sam Fisher is a strong character, he's a legend, and what's exciting about working with a legend is conceiving situations and environments and seeing how he reacts to them, how he faces his challenges.  It's like creating a game environment and watching a videogame player play through it–Sam Fisher is truly dynamic and alive.  In the canon of the Splinter Cell games his journey is distinct and creating the Tom Clancy's Splinter Cell Echoes graphic novel has been about identifying the direction of his journey and building conflict around them–and recalling important character and events in his past life to season the story.
8.      How did this collaboration come about?
NE: Because of my work creating THE ACTIVITY, a book about a Black Operations force in the US Army, Studio Lounak (the studio behind the critically acclaimed Assassin's Creed graphic novels The Fall and The Chain) reached out to me for Splinter Cell Echoes.  Marc has been a guest artist on THE ACTIVITY, and was a perfect fit to visualize Sam Fisher's world.
ML: Nathan and I had worked together on an issue of his acclaimed series, The Activity, and it turned out well. We had enjoyed that collaboration so we were looking for a way of working together again. When this project came up, it gave us the chance to do just that.
9.      How has it been working with the Splinter Cell team? Do you have a lot of autonomy/creative freedom?
NE: The Splinter Cell Echoes graphic novel has truly been our own story, which is not always the case on licensed or for-hire opportunities.  The Splinter Cell team in Toronto are creative geniuses and their input is invaluable. They know Sam Fisher and his world more intimately than anyone, of course, but having "introduced" us to him, they have allowed Marc and me to be true creators.  The partnership really couldn't be better.
ML: They have been great with providing all the reference materials I needed and it's been clear that I can contact the team anytime I have questions related to the game.
10.  Outside of the announcement, can you provide any more detail about the Splinter Cell comic book?
NE: I don't think I can say anything beyond the fact that fans of my previous work–and certainly Marc's–will truly enjoy this book, even those that haven't played the games.  The Splinter Cell graphic novel is both a thrilling and personal story about an operative whose career has been spent in the dark machinations of the political/military world.
ML: The graphic novel will get you super excited to play Splinter Cell Blacklist and let you in on some of Sam's motivations and more of his backstory.
11.  Is this the first time you've worked on a comic book that's based on a video game?
NE: Yes.
ML: Yes.
12.  What is your creative process when developing an original story (or original artwork)?
NE: First and foremost, I have to get to know the character and his world.  Only when they've become alive and real in my mind can I start to set up the story in broad strokes, and explore how the characters, for example, will react to certain conflicts.  With Splinter Cell we knew the endgame; we know where Sam Fisher ends up in Blacklist.  Knowing the future of his story, however, doesn't lessen the gravity of the "present."
ML: I read through the game script, make copious notes and assemble a huge amount of initial reference materials. Then I make small layouts of each page usually on the corner of the script pages. I then scan these very rough tiny thumbnails into page templates and start roughing out the pages in Photoshop. Once the pencils are tightened up and approved by the editorial team, I then print them out onto art board as blue lines and then begin inking the pages traditionally with brush and ink.
Tom Clancy's®  Splinter Cell®  Echoes Graphic Novel Q&A with
Ubisoft Toronto Game Director Pat Redding
1.       Tell us about the new Splinter Cell graphic novel.  What's it all about?
Tom Clancy's Splinter Cell Echoes takes place after the events of Splinter Cell Conviction and sets the tone for the opening events in Splinter Cell Blacklist. After a few months of unemployment, Sam is haunted by ghosts from his past career.  The graphic novel bridges the gap between Conviction and Blacklist, but we wanted to construct it in a way that can be enjoyed on its own. Players don't have to read Echoes to understand the events of Blacklist, but it will give fans of the franchise a new way to dig into the Splinter Cell universe.  This is a franchise with a legacy that spans over a decade, and we purposely designed the comic to be accessible to fans as well as those new to the universe.
2.       Why did you choose to make another graphic novel in the Splinter Cell universe?
Honestly, the decision to develop a graphic novel was an easy one.  The medium offers the perfect way to introduce our fans to new facets of Sam Fisher. We can approach narratives that aren't necessarily a fit for the video game medium. Comics and graphic novels can play with linearity and time in a more fluid way. We're also able to show Sam's story from a perspective that Splinter Cell players wouldn't be exposed to otherwise. When readers immerse themselves in the graphic novel, they gain access to Sam's internal monologue and gain more insight into his strengths, weaknesses and fears.
3.       What is the biggest challenge bringing Splinter Cell to a new medium?
Every medium has its own strengths, so the biggest challenge of any trans-media effort is to keep the brand at the center of the conversation between everyone involved. You need everyone committed equally. I think we've done a good job of maintaining a close dialogue between the game creators and the comic creators. Working with Nathan Edmondson is an amazing experience because he's truly an expert in his field.  We have to do this delicate dance to ensure that no one medium or piece overwhelms the other, and that each new piece we add to the universe stays true to the Splinter Cell franchise.
4.       How did you select the team working on Splinter Cell Echoes?
Both me and our Art Director Scott Lee are huge comic fans and self-professed genre geeks; so Ubisoft shrewdly asked us who we would want in our best-case scenario. We both suggested Nathan based on his work on The Activity. He brought in artist Marc Laming, who had just the right mix of visual storytelling and realism for the book. When they agreed to collaborate with us we were ecstatic. If you look at Nathan's work – from Who Is Jake Ellis? to Dancer – even when there are fantastic elements, it feels authentic and the characters are honest. But it was definitely The Activity that put Nathan on our radar, because that series has touched on many of the same themes we explore in Splinter Cell and it maintains a dynamic, gripping balance between real-world geopolitics and high-tech spy fantasy that draws readers in. As a writer, Nathan does his research and pays a lot of attention to detail, something that game creators value.
5.       How much direction did Nathan Edmondson and Marc Laming receive in terms of artistic or plot direction?
We knew we wanted to explore the time period between Conviction and Blacklist.  Our team met with Nathan and Marc to give them a crash course in Sam Fisher's life during that time. In our initial meetings, we talked about the direction of the book, and really looked at which aspects of Sam's past missions could create hooks for a new conflict. Right away, Nathan and Marc immersed themselves in the Splinter Cell universe. It's the same thing game creators do when they go into conception on a new title, so it was a familiar process to us. Once they were fully versed in the universe, we wanted them to have a lot of latitude to focus on their craft and bring a new story to life for fans in a way that was true to the comic book medium.  We're confident that all readers – whether they've played every game in the series or are new the franchise – are going to really engage with this story and the level of fine detail Nathan and Marc inject into Echoes.
6.       How has the experience been working with the Splinter Cell graphic novel team?
We are very fortunate to be working with guys that are really at the top of the industry and the top of their game creatively. Collaboration between the game creators and the comic team was extremely important to us right from the start.  Nathan and Marc know how to deliver quality material and are a pleasure to work with.
7.       Last question – when will you release the Splinter Cell graphic novel?
We will release Splinter Cell Echoes in Spring 2013 timed with the launch of Splinter Cell Blacklist.  We will have more details in the coming months about how fans can get their hands on it so stay tuned!