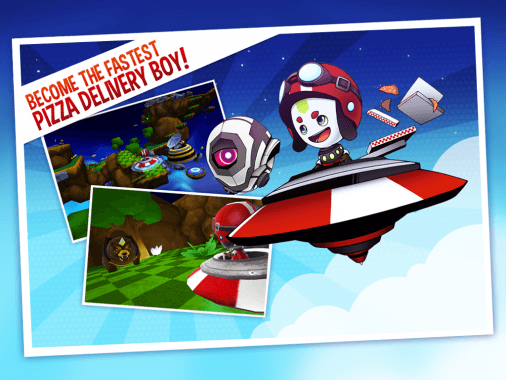 Developer Mental Moustache (how cool is that name?!) and publisher BulkyPix are releasing SpinCraft for the iOS on November 1st. SpinCraft is a 3D racing/platformer, in which you control Pyp; an innocent and adventurous pizza boy.
In SpinCraft, you will tasked with reaching your customer as quickly as possible – no one REALLY likes cold pizza. Judging by the screens, which may be viewed in the gallery below, being an intergalactic pizza delivery boy is a lot tougher than we could have imagined. There are traps and party-pooping enemies that will attempt to take down Pyp in his spincraft before reaching his destination. Spread across 20 levels, with more to be added down the road, the player must beat these obstacles, win boss battles, discover and utilise 5 different power-ups and upgrade their spincraft if they hope to succeed. Besides the customizable spincraft, Pyp himself can also be customised with over 20 unique skins to be unlocked. There are even hidden treasures to be found!
No one wants to be a pizza boy in real life but you may just want to give this a spin come November 1st! Give the launch trailer a whirl! – It can be found below the gallery.