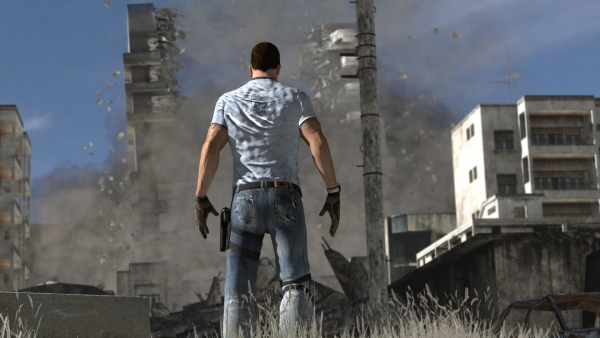 The incredibly popular Serious Sam 3 for PC garnered much critical acclaim amongst fans and reviewers alike. The epic 16 player Campaign co-op being just one of the reasons for its incredible popularity. The game itself harkens back to gaming of old with no cover system or recharging health and a huge emphasis on insanely large amounts of enemies for you to strafe and shoot at on each level.
Well congratulations Xbox 360 owners, because Serious Sam 3: BFE has just been announced as coming to Xbox Live this October 17th. In less than a week new fans and old veterans will be able to get their hands on this extensively ported version of the game, designed just with the Xbox 360 in mind.
The new version will feature both, Singleplayer and Splitscreen Campaign as well as the huge online co-op and competitive gametypes. For just 1200 Microsoft Points. For an extra 1200 Points, players will also get the Jewel of the Nile campaign expansion, as well as the Deathmatch, Last Team Standing, Capture the Flag and My Burden competitive game modes.
"Ever since we announced Serious Sam 3: BFE our fans have asked us to bring the game to Xbox LIVEArcade," said Davor Hunski, Chief Creative Guy at Croteam. "Boom. Done."
Also including 25 achievements and classic leaderboards, this package seems like the perfect way for Xbox 360 players to finally get into the game.
"Awesome, now I can go from getting absolutely annihilated by some loudmouth with a mouse and keyboard to getting annihilated by some loudmouth with an Xbox 360 controller," said Fork Parker, Devolver Digital CFO. "Damn these silky smooth thumbs."
Serious Sam BFE will be releasing on the Xbox Live platform on the 17th of Octorber.