Many gamers converged on Nintendo's immense booth at EB Games Expo 2012 today and got to get their hands on a variety of news titles coming our way thanks to the Big N.
While most were most excited to check out Nintendo's new console the Wii U, I was personally interested in checking out some of their upcoming offerings for their handheld device the Nintendo 3DS. One title in particular however captured my attention unlike any other on show for the handheld – Paper Mario: Sticker Star.
Now this is a franchise that I have had an enduring love for, despite recent 'super' missteps on the Wii that shall not be named. It is a love that developed from the very beginning of Mario's tenure as a paper-thin hero with the inaugural Paper Mario 64 and continued on with Paper Mario: The Thousand Year Door. Both of which were exceedingly phenomenal role-playing games. It brings me great pleasure to say that Nintendo have brought the RPG back to Paper Mario with their latest effort Sticker Star.
The biggest problem I had with the Paper Mario on the Wii that shall not be named is that the RPG elements I had come to love from Paper Mario that differentiated it from your standard Mario game was almost entirely lost. Thankfully those RPG elements are back in full-force with Paper Mario: Sticker Star.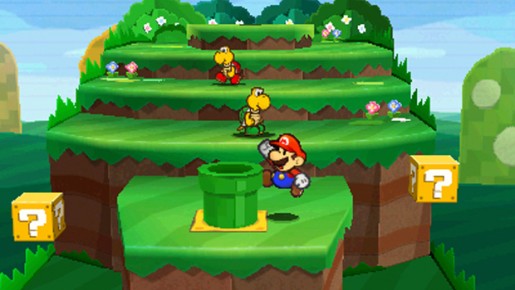 The first thing you will notice with Sticker Star is that not only does it provide very classic styled RPG gameplay, it has it's own spin on the genre and includes an incredibly addictive collectable element. That addictive element being of course the collectable Stickers. Theses stickers probably sound silly to someone who has not had their hands on the game themselves but collecting these things is as much a necessity in this game as it is infectious.
You see one sticker upon a wall and you have to peel it off. The stickers themselves are in fact very useful and are used in combat. For example if you find a sticker of a hammer, in battle you simply touch this sticker in your sticker album located on the bottom touch screen and Mario will use a hammer attack. It's all relatively simple, but it works tremendously and provides a great incentive to collect them. If you don't collect them you are not going to be able to survive in a fight, it's logical and ultimately a great deal of fun.
During the demo I played I collected a great deal of stickers and found the very action of doing so to be irresistible  If I saw a sticker, I just couldn't leave it. The game really gets you in that head space of an obsessive compulsive sticker collector. Of course that's not all there is to it, there is also the standard RPG elements such as travelling to different locations, levelling up, turn-based battling and the occasional epic boss battle.
If you are looking for a true Mario RPG experience, look no further. Paper Mario: Sticker Star has revitalised the series after it took a relatively steep fall with the Wii title that shall not be named. It is fresh, addictive and above all else it is fun. Here is your next must-buy title for the 3DS.