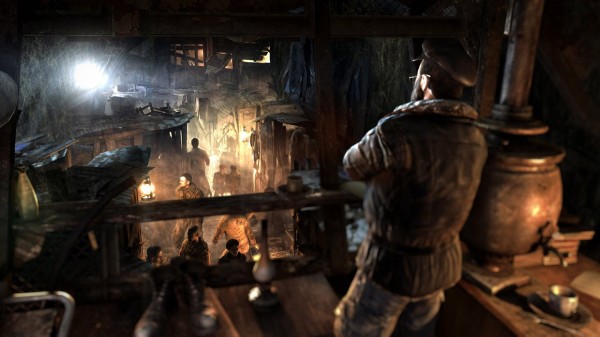 THQ have a lot of expectations riding on their shoulders for both WWE 13, and Metro: Last Light as those two blockbusters are needed to keep the company running smoothly for at least the rest of 2013. During E3, it was announced that Last Light would be seeing a multiplayer mode of some sort, but now it appears that has not panned out and the development team would be using their resources to focus on the game's single player experience.
Here is the official statement as it appears on Metro's official website:
Since our E3 demo back in June, many of you have been asking about the multiplayer component of Metro: Last Light. We wanted to share some information with you, the Metro community, first.
Throughout the development of Metro: Last light a small, dedicated team had been working on a number of multiplayer prototypes. After E3, we decided to fold this multiplayer team back into the main group and focus 100% of the studio's resources on the single player campaign. As a result, Metro: Last Light will not ship with a multiplayer component.
Your response to our E3 demo made it very clear that although there was a lot of interest and intrigue around Metro's multiplayer, the single player campaign is what the fanbase cares about the most.
Some may find this news gloomy – but I can easily say that this makes me much more hopeful for Last Light. While THQ can certainly pull off some decent multiplayer experiences, Metro does not need anything other than single player as this franchise is about atmosphere – first and foremost. I know this must be killing Mr. Online Pass who seems to have a grip on the publisher, but I feel that Metro will do just fine without the tacked in add-on and those who have been shy to look into the game should do so with haste as there is a damn fine product emerging as it is. Metro: Last Light is due out in early 2013.