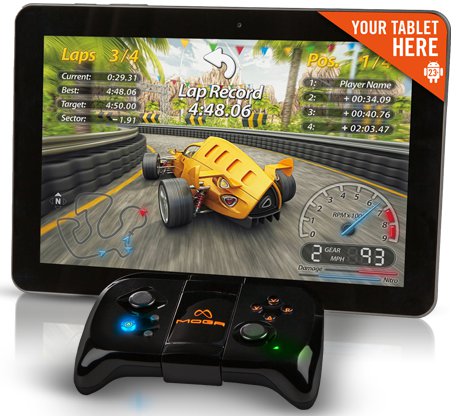 What could possibly improve the gaming possibilities of an Android smartphone or tablet?  Well according to PowerA, giving players the ability to use a standardized controller with them.  As seen in the picture to the right, the MOGA allows players to use the smartphone or tablet as the screen and allowing the hands to game like console uses have grown used to.
With demo stations currently set up in Toys"R"Us stores and some Best Buy stores in the United States, and available in 7000+ stores, MOGA is the best way to get more out of gaming on Android devices.  Though it is only designed to be compatible with Android 2.3 and above, so those with older models wont get any use out of it.
Players can enjoy more than 45 games compatible so far, unfortunately it is only available in the US right now, however in first quarter 2013 it will be coming to Australia and New Zealand.  Those wanting to see a little bit more before then can check out the video embedded below.