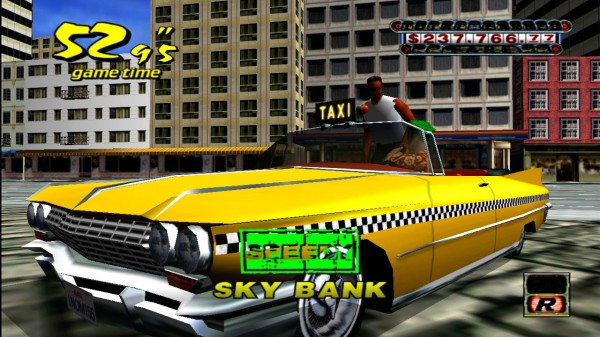 Welcome back for this week's iOS Game Suggestions. If you missed or are new to the suggestions, click on the link below and check what cool games you should be picking up for your iOS along with the introduction and disclaimer on how the suggestions work. (suggestions 1 has the disclaimer and how it all works)
MasterAbbott's iOS Game Suggestions
A great week on iTunes, as always it started slow and but ended with a bang! As always there certainly is a few must buy games this week in all departments, FREE, 99c and over 99c. This week i've suggested a total of 19 great quality titles.
Make sure you check them all especially Crazy Taxi, Death Dome, Pocket Planes, Tentacles: Enter The Dolphin, Reversion – The Escape just to name a few. Break down below :
6 – FREE Games
5 – $0.99c Games
8 – Over $0.99c Games
As always for this week's suggestions are all new titles that you should take a look at and consider spending your hard earned iTunes cash / time on.  Well the Free games just below certainly should all be given a shot as they won't cost you anything!
For The Cheapskates – FREE GAMES
 

MASTERABBOTT'S FREE GAME PICK OF THE WEEK!

Death Dome – Price : FREE – Publisher – Glu Moble / Griptonite Games (No one really remembers where it all started…but before long…it was everywhere. The "M" virus… Most people who showed symptoms were dead within days…but others weren't so lucky. Mutations were showing up all over the city. The infected were quarantined in a bio-dome force field that encased the city of Palamira. Some called it a "safe zone", but most know it as the Death Dome. The M virus grew stronger inside the Death Dome and eventually became strong enough to live on its own without a host. Strong enough to become…The Behemoths!) on iPad & iPhone. GET IT NOW FOR FREE

Kumo Lumo – Price : FREE – Publisher –

Chillingo

 (Every cloud has a silver lining…
Play as a smiling cloud as you float over the world in this one-of-a-kind rain 'em up! Use rain to grow forests and douse fires, and use a bolt of lightning to zap enemies intent on ruining Kumo Lumo's world. Featuring a unique artistic style and delightfully simple gameplay, you won't be able to get enough of Kumo Lumo!

) runs on iPad & iPhone.

GET IT NOW FOR FREE

 
Battle Nations – Price : FREE – Publisher –

Z2Live

 (Play Battle Nations and enjoy an epic, story-driven adventure filled with funny and lovable characters, powerful villains and foes, and unique troops ready to take the battlefield and fight for YOU! You can play your game on your iPhone, iPod Touch, iPad, AND on your Mac when at home. Download for FREE on both iOS and Mac App Stores!

) runs on iPad & iPhone.

GET IT NOW FOR FREE

 
4 Elements II HD – Price : FREE – Publisher –

Playrix

 (Misfortune has befallen the magic kingdom again! A careless charm made the formerly wondrous ancient world overcast, beset with darkness and despair. Four fairies of the elements were deprived of their magic power. Be the hero the kingdom seeks: set the fairies of earth, air, fire and water free, and restore the book of magic!

) runs on iPad & iPhone.

GET IT NOW FOR FREE

 
Pocket Planes – Price : FREE – Publisher –

Nimblebit

 (From the creators of Tiny Tower comes Pocket Planes, a casual airline sim that fits right in your pocket! Manage and grow your fleet of planes as they fly interesting people and cargo to over 250 cities around the map. Unlock everything from tiny prop planes to jumbo jets and small town airports to mega cities. Customize your planes with your own paint jobs and pilot uniforms. Trade plane parts among your friends, and compete in worldwide group events. See how you stack up against your friends with tons of stats and leader boards.

) runs on iPad & iPhone.

GET IT NOW FOR FREE

 

Space Disorder – Price : FREE – Publisher – Bulkypix (Space Disorder is a brand new colorful cartoonish platformer that utilizes the mechanics of gravity and powerful gadgets! Play as Noah, the game's fearless hero. Equip your jetpack, enter the robots' spaceship and free your sweetheart, Zanita, along with all of those poor, armless aliens. But beware, success won't come easy) on iPad & iPhone. GET IT NOW FOR FREE
For The Bargain Hunters – 99c Games
 

Girls Like Robots – Price : $0.99 – Publisher – Adult Swim (All you really need to know is that girls like robots. And robots like girls. Just don't surround robots with girls; it makes them freak out. Also: nerds like girls and robots, but girls don't like nerds. Everyone likes pie, unless they are a robot. Or on fire. Got it? Additionally, robots with mustaches don't care for June. June, on the other hand, likes bugs. And Ben likes June so he asked her to the dance. But there was this volcano and lasers and now the dance might be canceled.) runs on iPad & iPhone. BUY NOW

 

Tentacles: Enter The Dolphin – Price : $0.99 – Publisher – Microsoft (After a freak accident, Lemmy ended up inside the mad scientist Phluff's body.
Navigate Lemmy by simple tap controls, avoid tricky obstacles and surface hazards and face the reckless eyeball creatures. Eating the eyeballs will help you recover from the merciless challenges and frantic Boss Fights presented in this action packed, top-down platformer with fascinating 3D-animated Vein, Intestine and Brain levels.) runs on iPhone & iPad. BUY NOW

 

Topia World Builder – Price : $0.99 – Publisher – Cresent Moon Games (Topia World Builder is a world creation simulation. You become god and shape the land as you choose, by the use of touch controls. Swipe your finger to create mountains, valleys, rivers, and oceans. Watch trees grow, spawn thousands of animals – and watch them live and die on the planet of your creation!) runs on iPhone & iPad. BUY NOW

 
Polara – Price : $0.99 – Publisher –

Hope This Works Games

 (Polara is a new take on the free-runner platformer that incorporates traditional challenging gameplay with color-switching strategy. Utilize color coded speed ramps, launching pads, gravity waves, hex bombs, and energy platforms to survive as you escape the clutches of an evil security system hell bent on destroying all those that oppose.) runs on iPhone & iPad.

BUY NOW

 

Wimp: Who Stole My Pants – Price : $0.99 – Publisher – Flexile (Meet Wimp – a cute little blob!
Wimp sees wonderful dreams… dreams full of adventure. In his dreams life has been quiet and peaceful, but in a sad twist of the story, Wimp's panties have been stolen!
This is where the journey begins. Travel across unique and amazing worlds chasing the thief. Every level is packed to the brim with fun, challenges and new game mechanics. The detailed environments, tricky puzzles and Wimp himself will do their best to keep you from getting bored of the game. And we can guarantee that we will continue to strive for the highest level of polish possible – it has been one of our main goals since the first day of our development process.) runs on iPhone & iPad. BUY NOW 
For The Millionaires – All games over $0.99
MasterAbbott's over 99c Pick Of The Week!

Crazy Taxi – Price : $5.49  – Publisher – SEGA (Hey hey, come on over and have some fun with Crrrrrazy Taxi! Barrel through traffic packed streets, hurdle off parking garages, and crazy combo your way to crazy money in a wild frantic race to scare up the most fares. In Crazy Taxi, time is money, and only the craziest cabbies come out victorious.) runs on iPhone & iPad. BUY NOW

 

Devil's Attorney – Price : $2.99  – Publisher – 1337 Game Design (Devil's Attorney is a turn-based strategy game set in the 80's where you play as Max McMann, a defense attorney that's high on charm but low on moral fiber. Your objective is to free all of your clients and use the money you earn to buy accessories and new furniture for your apartment; boosting your ego and unlocking new courtroom skills in the process.) runs on iPhone & iPad. BUY NOW

 
Monopoly Millionaire for iPad – Price : $5.49 – Publisher –

EA Mobile

 (FIRST TO A MILLION WINS! Enjoy a fast, fresh take on the classic MONOPOLY game. Do you have the drive to be a MONOPOLY Millionaire?
Trade properties on the sly, force powerful land-grabbing deals, and risk it all – in a private jettin', yacht clubbin' dash for a million in cash.

) runs on iPad.

BUY NOW

 
Stunt Star: The Hollywood Years – Price : $2.99 – Publisher –

Three Phase Interactive

 (Relive the life of a Hollywood stuntman as it flashes before his eyes. Crash, explode, catch on fire, crash and crash again before finally you succeed… then it's on to the next stunt until at last you come to his final leap.) runs iPad & iPhone. BUY NOW
 

Vacation Quest – The Hawaiian Islands – Price : $5.49  – Publisher – Popcap Games (Discover your passport to the world's most exotic locations! Relax in the tropics as you search for hidden clues to extend your vacation and unlock new adventures. Are you ready to go? Explore 28 island scenes in search of over 2,300 hidden objects. If you find the seashells in each location you'll earn bonus days and tour new sites. Fill your vacation journal with your achievements and go for a Perfect Search to boost your score! Kick back in untimed Vacation mode or compete against the clock. It's your own tropical paradise!) runs on iPhone & iPad. BUY NOW

 

Reversion – The Escape – Price : $2.99  – Publisher – Bulkypix. (You wake up in a hospital with no memories to find out you're 2035. Suddenly, you realize your life is in danger and that you need to escape as fast as possible. What would you do faced with such a situation? Reversion – The Escape, is the first chapter of a graphic science-fiction adventure that propels the player to a desolate future, robbed of his memories and looking desperately for a clue to understanding his predicament. Help a man find his way back to his memories, discover a fascinating adventure and reverse the disastrous events that led the city to ruins.) runs on iPhone & iPad. BUY NOW

 

Whisper Of Fear: The Cursed Doll – Price : $5.49  – Publisher – G5 Entertainment. (On that bright sunny day when Rosemary, Jessica, Wendy and Lora went playing to the lake, nothing hinted at the tragic events that were about to unfold. They say time is a healer but sometimes the pain is simply too great to forgive… Solve the mystery of the Cursed Doll, stop the chain of deaths and save a little girl! Search all over this secluded town for clues to this mystery. Travel through picturesque locations, solve loads of challenging puzzles, find the hidden items that will break the evil spell of the Cursed Doll!) runs on iPhone & iPad. BUY NOW

 
Apocalypse Max: Better Dead Than Undead – Price : $2.99 – Publisher –

Wandake

 (Overrun by a mysterious strain of mutant zombies, Hellthroat Island has never been more in need of a real hero. You, Apocalypse Max, are the lone survivor of this zombie apocalypse. Journey through 20 levels of heart-thumping, adrenaline-pumping action spread out over 9 perilous worlds! Master in-air maneuvers as you find your way around precarious platforms. Discover secret treasures and collect gold as you overcome more than 16 wacky types of zombies. Unlock over 18 insane weapons and find crazy ways to blast past your enemies.

) runs on iPhone & iPad.

BUY NOW
There you have it folks, these games should keep you busy for quite some time, well till next week at least. I'll be back next week for another dose of iOS goodness, in the meantime if anyone would also like to suggest their own suggestions, please feel free to share them in the comments section below or in the iOS forum section on the site here.
Remember kids, Play Hard Or Don't Play At All!