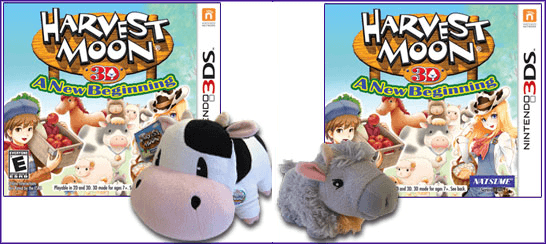 As any veteran Harvest Moon player knows, it takes a lot of effort to have your cows and chickens produce golden milk and eggs. However once those golden items are obtained they are not only worth all that effort thanks to their stellar quality, but also because they sell for quite a high price.
As such, having certain items go gold is quite an accomplishment in Harvest Moon and Natsume knows that better than anyone. Today the company announced that Harvest Moon: A New Beginning, the first Harvest Moon game exclusively made for the Nintendo 3DS, has gone gold and will be ready for purchase at stores on November 6th.
Those who feel like pre-ordering from Natsume's Online Store will be able to receive a few special items, though your time is running out to secure a 15th Anniversary Edition of Harvest Moon: A New Beginning as they will no longer be available for pre-order after October 23rd. If you do miss out on that however, you can still pre-order the basic edition and receive the Yak plushie seen above instead.