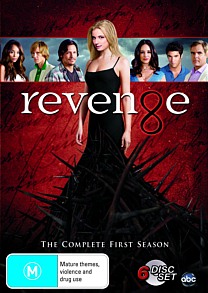 New Revenge special behind the scene featurettes have been released, giving us a bit of an insight into the world of Revenge. Revenge is set in a somewhat exaggerated, different world where the rich rules as royalty, and subterfuge is a way of life.
Emily Thorne (Emily VanCamp) moves into a property in the Hamptons as an independently wealthy and intelligent young woman, but no one knows she's hiding a secret – a good deal of her neighbours helped put her father in jail and she is planning their downfall. And she is damn good at the whole revenge business. It's like the grown up version of Gossip Girl, where everyone is still rich and manipulative, but the stakes are higher and more dangerous than social suicide.
Revenge is an intriguing and involving show that keeps you on your toes and has so much forward momentum that you are left begging for another episode at the end of each one.
Check out the featurette for Emily's home below.
And the featurette for the use of the Hamptons as the show's setting.
Revenge Season 1 is available NOW for $49.98 – Get it HERE
For more information on Revenge, and other TV shows, make sure to keep tuned to Capsule Computers!