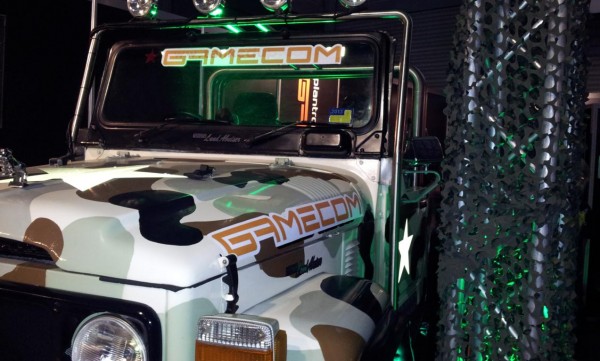 This year at the EB Games Expo held in Sydney the superior (personal bias here, my Gamecom 7.1ch headphones are beastly) headphone company, Plantronics, were present and showcasing a wide variety of their products. What was really cool was that they had a bunch of their existing product line on display and also attached to a plethora of popular video games to showcase their clearly superior sound quality.
Also present at the booth was what looked like a Jeep of some kind that had been done up and emblazoned with the Gamecom branded logo, which made it look incredibly relevant to the booth. Although the real item on display was their upcoming pair of headphones.
These impressive headphones are called the Gamecom Commander that are designed for tournament play by (who I was told are) specialists that also produce audio technology for the military. I just had to try these babies out. As soon as I put them on my head, I noticed that the room – or rather the show floor – had become silent. I could then hear this sound happening beside me. I literally thought that it was an actual sound being produced from the side, so I lifted the right earphone off my head just so that I could verify.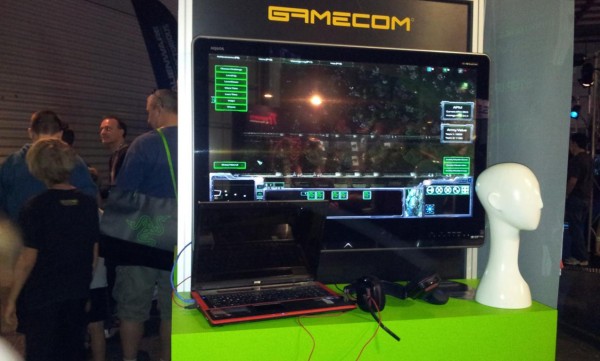 It turns out that the sound was actually produced by the headphones. This was amazing, I mean I've always upheld that Plantronics have a superior quality of audio in comparison to most other companies out there, but after hearing the Gamecom Commander in action – I'm pretty much ready to retire my current pair and pick one of those. Just let me reiterate my point here, just in case you haven't quite gotten what it is that I'm trying to say here.
The Gamecom Commander offers a superior audio quality across a natural sounding 7.1 channel surround sound setup. Just remember that this was so superior that I thought that I was hearing something actually happening around me. Nothing has made me believe that yet, not even my current pair of headphones that I still hold above all else, except the Commander of course.
Overall it looks like the GameCom brand is going to continue strong. Plantronics continue to offer a superior experience to gamers and I definitely want the Commander to be accessible to as many gamers as possible. Check out the official site for more info.