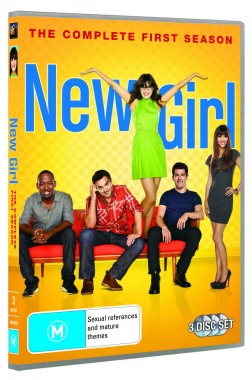 20th Century Fox Home Entertainment has announced that New Girl: The Complete First Season is set for release on DVD on October 10. New Girl is a popular sitcom based around Jess (Zooey Deschanel) who gets cheated on and then has to find new roommates. Schmidt, Nick and Winston take pity on her and allow her to move in, a decision that results in a little frustration, a lot of stories, and some hijinks.
Jess is a huge dork and she needs the help of the three guys, as well as her best friend Cece, to try and navigate the waters of the new dating world. But Jess isn't the only one with issues, Winston is a former athlete who finds himself adrift, Nick is a law school dropout with no real marketable skills, and Schmidt is a womanizing douche.
Along with all of the season one episodes the DVD series also includes the following special features:
• Dress Like Jess – Fashionista Zooey Deschanel and NEW GIRL costume designer Debra McGuire talk about creating Jess's cute, vintage-inspired look.
• New Girl: Evolution of an Episode – from the writers' room to table read, see what goes on behind the making of a NEW GIRL episode.
• Auditions with Lamorne – an insider's look at Lamorne Morris during his audition
• Alternate Jokes – watch the actors run through variations of the same line but using different jokes
• Deleted & Extended Scenes
• Audio Commentaries on 3 Episodes (Pilot, Bad in Bed and See Ya) with creator Elizabeth Meriwether, producers and cast
New Girl Season 1 is available on DVD from October 10, or you can preorder your copy HERE for $29.98.
Do you have problems with your love life, roommates or job? Well, never fear, New Girl's Magic 8 Problem Solver is HERE.
Keep an eye out on Capsule Computers for a review of the TV series!