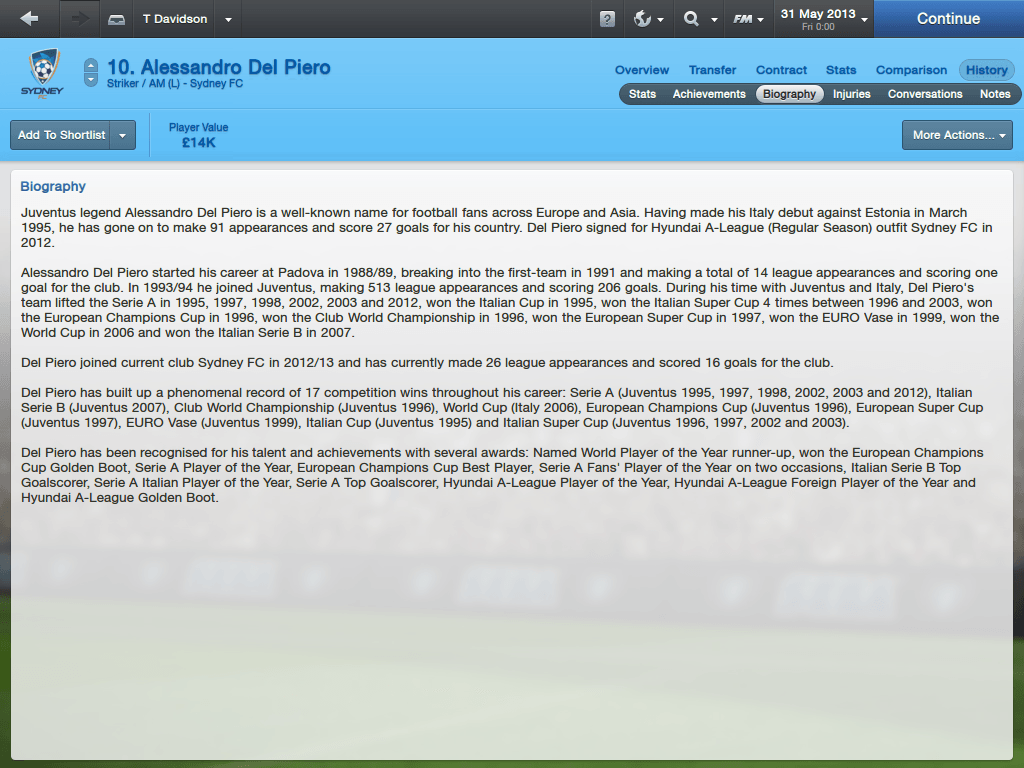 According to a simulation carried out on the upcoming Football Manager 2013, Alessandro Del Piero will have an amazing debut season playing Down Under for Sydney FC in the A-League. The former World Cup and Golden Boot winner who has chosen Sydney as his home for the 2012/2013 A-League season was given the honour of player of the season by the simulation.
Football Manager 2013 went on to reveal a few more secrets about the legends upcoming season, indicating a flurry of goals and teammate assists. Not surprisingly, his introduction onto the competition will be met with increased bums on seats and merchandise sales as fans flock to see their hero in action. Del Piero is not the only huge international signing into the League with the Jets managing to get their hands on Emile Heskie, whose season also looks set to create some sparks.
"This is going to be a big season for the A-League – and not just because of the arrival of a couple of big-name European players," says Miles Jacobson, Studio Director of Sports Interactive. "It will also be interesting to see the impact made by the arrival of Western Sydney and the introduction of the new play-off system… both of which feature in Football Manager 2013. With all of this going on, we thought it would be fun to have a look ahead and see how the A-League season might pan out."
Only time will tell the accuracy of the simulation but either way its all setup to be a cracker season.
Football Manager 2013 is available come November 2nd for both PC and Mac
For more information please visit www.Footballmanager.com