Every major convention worth it's salt makes way for a bit of cosplay. The EB Expo 2012 was no different, holding a cosplay competition on the last day of the event. After a preliminary round early in the day, seven competitors were invited back to the EB Arena to take part in the Grand Final of the Cosplay Evolved competition. The arena was packed out for the event, which was part of the closing ceremony for the entire show, so after an extra heavy dose of dub step gaming themes, things got underway…
Every participant was preceded by a video short introducing themselves as their cosplay character, and then proceeded to strut their stuff for the audience and the panel of judges.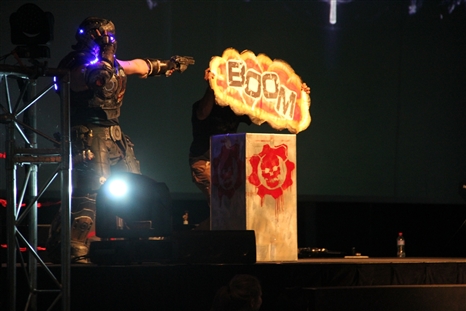 First up –Clayton Carmine from Gears of War 3. This was one of the most impressive costumes around the Expo and looked great on the big stage. A decent video introduction was followed by a skit that quickly shot through Gears of War 3, throwing in some props and some humour. The second entrant changed the tone of things as a Walking Dead Zombie; the usual zombie shuffle spiced up with a quick rendition of Michael Jackson's Thriller.
Deadpool was keen to play up the fourth wall breaking with a brave comedy skit, but despite a few giggles didn't quite manage to pull it off – props to that competitor for having the nerve to try and make a huge audience laugh. An Uncharted skit featuring Drake and Elena also brought a bit of the bizarre, bringing in a strange crossover in the form of the Joker from the Dark Knight – of course sporting the famous nurses outfit, complete with a dangerously short skirt!
A fierce representation of Dragon Age II's Flemeth showed off a highly detailed costume, with an impressive bit of hairstyling and a bodice littered with studs. A young Ocarina of Time Zelda provided a bit of sweetness and light, posing her way through the end sequence of the game.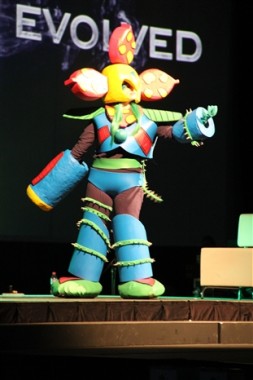 The best was certainly saved till last, with a witty and confident skit from Megaman's Plantman (technically a Plantlady). Everything fell into place for this participant, a vibrant costume, a funny skit, and a great bit of charm and personality.
After a brief interlude to conclude the results, the judging panel returned and the top three were announced. Walking away $250 in third position was Flemeth, followed by Clayton Carmine in second place, picking up a cool $500 in EB vouchers. The biggest prize of them all went to the clear favourite, with Plantman walking away with a massive $3000 worth of EB vouchers – surely enough to keep even the most avid gamer supplied for quite some time.
Congratulations to all the participants and of course to the winner – enjoy blitzing your local EB games store…