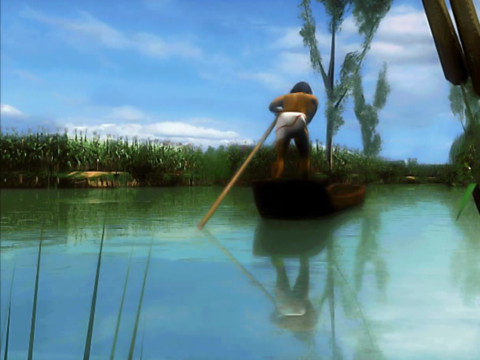 The ancient civilization of the year seems to be the Aztecs with the looming 2012 calendar date. Anuman Interactive have created a first person adventure game that recreated the ancient Aztec capital as faithfully as possible with the support and assistance from the French national  museum network, and Aztec experts Eric Taladoire, Director of the Archaeology Research Centre in Sorbonne, France and Leonardo Lopez Lujan, an archaeologist at the Museo del Templo Mayor in Mexico City.
Players take on the role of a young hunter named The Serpent who is falsely accused for the murder of a noble man while the city is plagued by an ancient evil. The Serpent must embark on an epic adventure full of puzzles and riddles to clear his name and save the Aztec people from destruction.
Aztec: The Curse in the Heart of Gold is now available for the iPhone for $0.99 here or an universal HD version for $3.99 for iPhone and iPad here. A full Mac and PC release for $9.99 will be released soon.