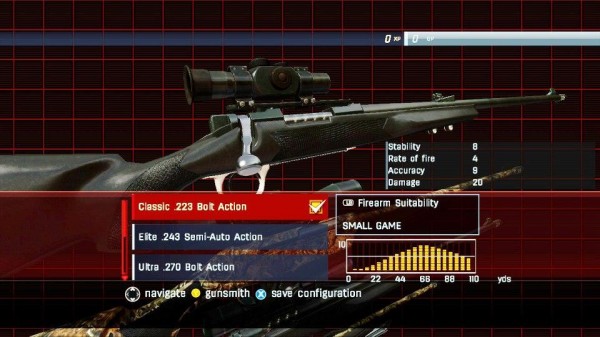 I'm not a hunter, and I honestly have never been too into the whole hunting game scene. That being said, I do respect the genre's existence as there is a market out there for this type of game, and Cabela's Hunting Expeditions is looking to be a fine entry in the long running series from what we have seen thus far.
Recently, Activision have came out and detailed the firearms players can "shoot dem 'mals" with, and you can check them all out below:
To fully get the most out of the hunts, players will be able modify their firearms with various specs and attachments. Upgrades can also be purchased using Gunsmith Points. The window to land the perfect kill shot may only be open for a brief moment, prepare accordingly.
To give players a taste of what's to come in Cabela's Hunting Expeditions, here are a few of the game's featured rifles:
Classic .223 Bolt-Action rifle – Take down Whitetail Deer and Springboks with this classic starter firearm.
Elite .243 Semi-Automatic rifle – This is a great, all-around firearm perfect for Mountain Goats and Pronghorn Antelope.
Frontiersman .350 Level-Action rifle – For more dangerous hunts, equip this advanced all-around weapon and face your fear against Lions, Rhinos, Elephants, and Cape Buffalos.
I don't really get the point of shooting a rhino, but hell, why not…right? Cabela's Hunting Expeditions is due out October 23rd for the Nintendo Wii, Xbox 360, PS3, and PC.