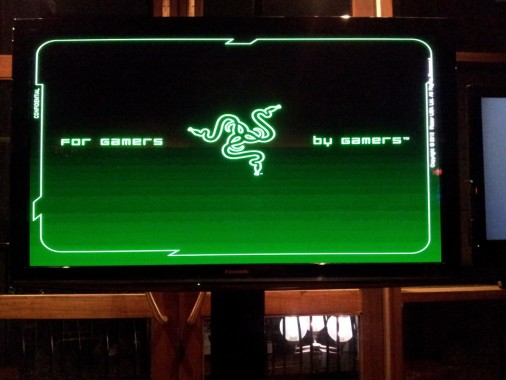 Last night at a bar/club in Sydney Australia us here at Capsule Computers were able to go hands-on with the new Razer Blade gaming laptop. The device is brought to you by Razer, for gamers, by gamers and is an incredibly awesome looking device that can handle the best of games thrown at it. The vent itself was incredibly fun with hands-on sessions with the Razer Blade, as well as some photo shoots with the legendary Razer babes. We were also addressed by the CEO and Chief Gamer of Razer, Min-Liang Tan, and was told a bunch of interesting facts about the device.
Essentially what it is that Razer have done is that they have taken the baseline specs for the average gaming laptop and have created a laptop this is comparable but at a fraction of the weight and size. This makes the device that houses a GTX660 video card, an i7 processor and more seem like it's made of some kind of voodoo. However, what this is, is the result of Razer putting money and engineers into the project in order to get the form, the weight and the rest of the device to fit into their own specifications.
For instance, we were quoted many different specs about the device, like that it comes in at 0.88″ in size or as Min stated "about the size of an Aussie $2 coin". What was even more impressive was about how honest Min was about the performance of the Blade in comparison to the more popular competitors.  In a few slides of a presentation, we were shown that the Blade offered superior performance in some games, whilst only coming in second for others. Overall though, it was only really a 1 or two frame difference between units and these were probably averages, so your own experience will probably vary.
As you've probably already heard, the Razer Blade is launching in Australia on the 1st of November at a price point of $2999. Now, from a gaming specification stand-point, this is a device that is similar to products already on the market. But what really separates this from it's competitors and is also a justification for the high price-point is that not only is it thinner and lighter, it also features a tonne of features not available on those devices. For example the device has a touch screen that doubles as a touchpad for use whilst gaming and navigating the PC. What's cool about this is that it is essentially it's own mini-computer. This means that you are able to program the pad to do various things. In our demonstration we were able to see the device go from a Gangnam Style parody to a really cool and useful count-down clock for spawns and the like.
Initially with this timer we saw a bunch of pre-programmed timers for games that I barely play. So a spawn timer for League of Legends, and a few others. When given the opportunity to ask questions, I took the initiative and asked if we could program our own counters for games like Quakelive and the like. It turns out that you can indeed program your own timers for games. This'll make duels so much more easier in the future.
Above this pad/monitor are a bunch of smaller buttons. They look like they're made the same way that the touchpad was, but are the size of keyboard keys and serve a different purpose. What was cool with these buttons is that they are essentially icons that open up various functions for different games. For example, if you're a World of Warcraft player, you'll be bale to select the WoW icon and then use the buttons to activate your skills. What makes this even cooler is that you can have more than one page of icons. By using a three finger swipe on the touchpad, you are able to switch between pages until you come across the right shortcut.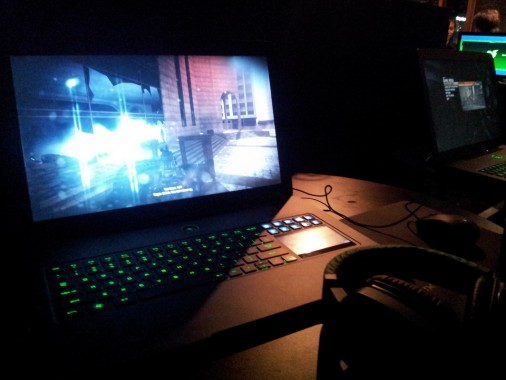 After the presentation it was time for some hands-on with the Razer Blade. Now this device is one that is incredibly capable of running the most high-end games incredibly well. Each laptop had a bunch of titles loaded onto it, however, the most popular of these was Battlefield 3. I mean, really, what better game to stress a laptop out with other than that? From my own experiences with the laptop, I can tell you that you won't be disappointed with its performance whilst gaming.
Overall the Razer Blade is a fantastic gaming laptop designed with the portable gamer in mind. It is incredibly lightweight, thin enough to pack and carry and not be bothered by the bulk and is packed to the brim with a bunch of amazing features. gamers will definitely want to be picking this gaming laptop up on its release in November.
Be sure to check out the gallery below for some of the photos taken at the event. Please right-click and open in a new tab/window on each picture for easier navigation.